The Unsung Working Heroes of the Hospital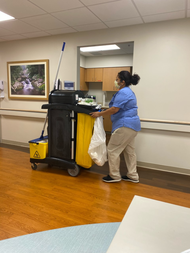 It is no secret that nurses and doctors are heroes. They work incredibly hard to ensure the safety and well being of the people. However, it takes more than just nurses and doctors to run a hospital. Most people do not recognize these hidden heroes of the hospital- so it's about time we appreciate them and their hard work.
Environmental Services
Heroes in the environmental services department are the ones who ensure every patient, family member, and staff member has a comfortable stay when they are at the hospital. They manage the safety and cleanliness of the entire hospital. These heroes are the reason hospital floors are spotless, toxic and dangerous waste is disposed of properly, hospital beds are made, and waiting rooms are tidy.
"The greatest part about my job is that I get to make people happy to come to a clean hospital. I am able to go above and beyond to ensure everyone has a pleasant stay by helping my community and meeting their needs," said INOVA Fair Oaks environmental servicer Adama Koroma.
Koroma also expressed how in the past year when Covid-19 hit, her job became more important than ever. She had to make sure everything was always sanitized and disinfected and that everything was kept as clean as possible to ensure the safety of the people. "We have to fight this pandemic together, so we all need to do our part," finished Koroma.
Dietary Services
The heroes of the dietary services department make sure everyone in the hospital is fed. They interact and visit patients daily to get them the nutrition and meals they need. They also feed the nurses, doctors, staff, and family members throughout the day. They ensure that everyone is well fed and enjoy delicious, nutritious meals.
"We are extremely dedicated to our patients and hospital. I've worked at a hospital since 1975. I wasn't sure that I would be able to be a nurse or doctor, and so working in dietary services still gave me the opportunity to make an impact in the hospital," said INOVA Fair Oaks dietary servicer Pheneda McMillian.
Engineering Department
These heroes are the people who manage the safety and security of every appliance in the hospital. They run inspections and diagnostics to ensure the safety of different equipment and appliances around the hospital ranging from heating, ventilation systems, refrigeration systems, and air conditioning.
When the effects of Covid-19 first hit, these engineers played a role that was crucial to the welfare of everyone at the hospital: negative pressure rooms. These were the rooms that positive Covid-19 patients would stay in that had a specific air filtration system to ensure no contaminated air could leave the covid patient's room.
"We have an amazing staff and team. We have been able to improve patient experience and safety dramatically this past year by creating these rooms," stated INOVA Fair Oaks engineer Eric Whittington.
Ultimately, every staff member of the hospital plays an important role in the functioning of the hospital. They ensure the safety, well being, and security of everyone who walks through hospital doors. Although nurses and doctors are also heroes of the hospital, they have expressed that the hospital would not be the same without these hidden heroes. "Without these unsung heroes, we would not be able to do our job as safely and well as we do. I am so grateful that we have all of the ancillary team to get us through it all," concludes INOVA Fair Oaks Women and Children's Clinical Director Lani Brown.
​