​What Does it Mean to Win in Sports This Year?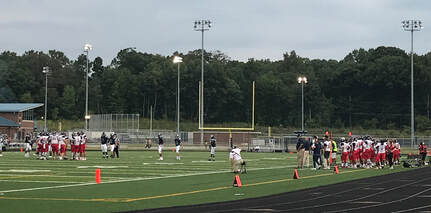 Athletics, just like everything else in 2020, are going to be different. The schedules for school sports are shortened across the board, and that's if everything goes as planned. As the world has learned this year, nothing is set in stone. And for sports to resume, there will be a lot of work put in by everyone to make sure the seasons go smoothly.
"These few upcoming months are going to be very hard to prepare for offseason conditioning and tryouts," Patriot baseball player Nathan Bishop said.
The past several months have been uncharted territory for many high-school athletes, and they have had to stay in shape on their own. The athletes are well aware of what will be required of them, and it shows the devotion that they have to improve themselves.
What does all of this mean though? Well, so far all that has been presented is the obstacles in the way of Patriot's athletes. However, the real question is, does success have a new meaning this season?
"To be honest I just want to play.  These kids work so hard and the season means so much to them.  The chance to play outweighs a shortened season," head football coach Sean Finnerty said.
Finnerty highlights what truly matters this year: playing. Previously, athletes may have taken for granted the athletics they participated in, but this year, athletes should have a newfound respect for their opportunity to play. For possibly the first time, the mindset of high-school athletes may change. Winning titles and trophies might have to take a back seat to the fact that athletes are able to play the sports that they enjoy.
Don't take this the wrong way, athletes will continue to strive for success. One would even assume that after such a long break from high-school sports that the competitiveness of the athletes would be at an all-time high.  But when you look at the circumstances that the world, our school, and our students have been through, something as simple as having a sports season for a high-school athlete might make life more exciting.
So, go out and support Patriot's athletic department when the opportunities arise; and athletes, play your heart out this season because nothing is guaranteed.