Now You Know: Weeks of 10.03.21 to 10.16.21
1)    Facebook Whistleblower
2.89 billion people use Facebook to connect, so what happens when it shuts down? The impact is severe, and Facebook is now facing a historical crisis.
On Oct. 4th, Facebook and its subsidiaries including Instagram, and WhatsApp suffered an outage lasting nearly 6 hours, and disconnecting millions of people.
Former product manager Frances Haugen took the opportunity to reveal her identity after disclosing tens of thousands of internal documents from Facebook to the Wall Street Journal. The documents showcase Facebook consistently placing profit and growth above the safety of their users.
The documents also explained Facebook knew its apps harmed children, especially teenage girls, and allowed misinformation to rapidly spread. But they've intentionally hid the research proving this for years.
Haugen testified before a Senate panel on Oct. 5th, telling themCongress must intervene in the crisis to solve it. Haugens testimony spurred a second whistleblower, Sophie Zhang, to come forward. Zhang will testify to British Lawmakers this Monday.
2)    Deadly Protesting in Beirut
Beirut erupts in deadly protests over the 2020 explosion probe, leaving at least six people dead.
On Aug. 4th, 2020, a port in the capital of Lebanon was pulverized due to one of thegreatest non-nuclear explosions in history. It left half the city damaged, at least 216 people dead, 300,000 people displaced, and according to the World Bank, $3.8-4.6 billion in damages.
The explosion was a result of 2,750 tons of ammonium nitrate improperly stored for 6 years. Only a few high position officials knew of the ammonium nitrate.
As the explosion further exposed government corruption, judge Tarek Bitar seeks to query top officials, including Hezbollah allies, that were aware of the stored chemicals. But the judge is now being accused of politicizing the investigation.Hezbollah demands for his removal.
During this Thursday's protest to remove judge Bitar, organized by Hezbollah and their ally, Amal, gunmen opened fire. It's unclear how the gunfire began, but Hezbollah leadership say they were retaliating against their rival Lebanese forces who havedenied the accusation. The gunfire killed six people, and left others injured.
The protest marks theworst civil violence since 2008 in Beirut.
3)    Alex Murdaugh Case
A string of killings surrounding a prominent South Carolina lawyer's family has captivated investigators and the public.  
Alex Murdaugh devised a self-execution plan to ensure his son could collect on $10 million life insurance policy after his wife and second son were fatally shot months before in an unsolved murder case.
Here's a timeline of key events:
June 7, 2021: Murdaughs wife and son are found dead
Sept. 3, 2021: Murdaugh resigns from his law firm after money misuse
Sept. 4, 2021: Murdaugh calls 911, telling them he was shot in the head
Sept. 15, 2021: Investigators say Murdaugh devised his own shooting, and police open an investigation looking into the 2018 death of Gloria Satterfield, the family's housekeeper.
Sept. 16. 2021: Murdaugh surrenders and is charged with several felonies including insurance fraud. He also admits planning a suicide scheme so his son could receive $10 million. 
Oct. 14, 2021: Murdaugh taken into custody and charged for"misappropriating settlement funds in the death of Gloria Satterfield."
Oct. 15, 2021: Murdaughs' lawyers say he had drugs in his system the day he was shot.
4)    Mixing and Matching Vaccines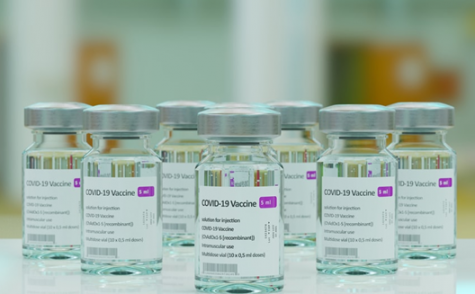 A scientist on the FDA committee asked, "Is it a good idea to mix and match vaccines?"
This has been a question asked since COVID-19 vaccines first came out. And while "no" has been the answer for months, a new study shows a"mix and match" approach for a booster is not only safe but may be beneficial.
Early evidence indicates getting a booster dose from another COVID-19 vaccine manufacturer in the U.S. couldstrengthen antibody response. This is especially salient for those who have previously received the Johnson and Johnson vaccine.
The Food and Drug Administration has now recommended booster doses for all three vaccines in the Unites States, and approved of Pfizer's booster dose, but additional doses are currentlyonly available to certain groups.
5)    Nike and Alberto Salazar sued for $20 million
A former track star sues Nike and ex-coach Salazar for $20 million.
Mary Cain was 17 years-old when she qualified for the 2013 world championships. When she was 16, she began training with coach Alberto Salazar and joined the Nike Oregon Project.
But instead of nurturing her talent, Cain described Salazar to have led her to self-harm. She reported him weight, shaming her regularly, even saying her "breasts and bottom were too big."
In 2019 she told the New York Times "I joined Nike because I wanted to be the best female athlete ever. Instead, I was emotionally and physically abused by a system designed by Alberto and endorsed by Nike."
The Oregonian reported Cain, now 25, to have filed a lawsuit Monday alleging Salazar publicly criticized her weight, controlled her food intake and even stopped her from getting help from her parents. Her lawyer added Nike did not take any action to prevent the alleged abuse.
Read all of the sources used in this article!