Now You Know: Weeks of 10.17.21 to 10.30.21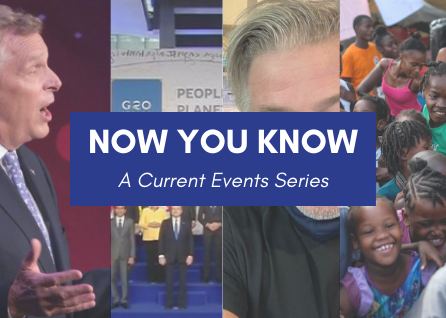 1) Virginia Gubernatorial Candidates Deadlocked in Race 
As Virginia gets ready to choose a new governor this Tuesday, candidates Terry McAuliffe (D) and Glen Youngkin (R) are nearly tied at the polls. 
Princess Blanding is running as a member of the Libertarian party but has fallen behind in the polls. 
Currently, McAuliffe, who served as Virginia's governor from 2014-2018, stands at 49 percent of likely voters favoring him while Youngkin stands at 48 percent according to the Washington Post-Shar School polls released Friday. President Joe Biden previously won the state by 10 points.  
Some key differences between McAuliffe and Youngkin: 
1) Both candidates support vaccines, but Youngkin does not believe in mandates
2) McAuliffe fully supports abortion rights, while Youngkin supports abortion rights in case of rape, incest, or when the mother's life is at risk
3) Youngkin believes parents should have more say in public school curriculum, while McAuliffe has spoken against such
As the close race serves as an opening act to the 2022 midterms, Democrats hold a high stake in this particular election but are having to play defense. Virginia being a national bellwether, losing would an ill harbinger for next year. 
2) American Missionaries Kidnapped in Haiti 
17 missionaries working with the Christian Aid Ministries remain hostages of a Haitian gang called "400 Mawozo," after 16 days. The gang demands $17 million for the release of the missionaries. 
The group includes 16 Americans and one Canadian. Of those, six are men, six are women, and five are children, ranging from ages eight months to 48-years-old.  
Controlled by gangs, crime in Port-au-Prince has been surging since 2020. Haiti even dominates the world with the highest kidnaps per capita.   
With Haiti's government in turmoil and its society struggling with poverty and civil unrest, violence has had a chance to reach new heights in the country. Even though Haiti dealt with high crime rates before, this latest kidnapping has captured the attention of the rest of the world. 
The gang has threatened to kill the missionaries if the ransom isn't paid. Talks are ongoing, but in a news conference, Jen Psaki confirmed that the U.S. does not negotiate with those who take hostages. A small team has been dispatched to aid in the search for the missionaries. 
3) Negligence On the Movie Set of Rust Causes a Deadly Shooting 
 On Oct. 21, Alec Baldwin was practicing a stunt with a prop gun on the movie set of Rust in New Mexico when it misfired, killing cinematographer Halyna Hutchins, and wounding director Joel Suoza.  
According to an affidavit, Baldwin had been assured the gun was "cold," by assistant director, David Halls, meaning the gun held no live ammunition. 
Halls later spoke to detectives, saying he did not thoroughly check the rounds.  
Hannah Gutierrez-Reed, who had only recently become the lead armorer of the set, also spoke to detectives saying she had checked the dummy rounds, and they were not "hot." 
Hours before the deadly shooting, several members of the crew had walked off set over what they deemed to be unfair working conditions, including unpaid work. There were also at least two previous accidental shootings on the same set just days before according to former crew members.  
Over the last few days, many questions, including how and why a live round was on set, have been raised, but remain unanswered. Sheriff Adan Mendoza of Santa Fe County said he thinks, "there was some complacency on this set. Any time firearms are involved, safety is paramount." No charges have been made yet. 
4) G20 Summit Leaders Are Discussing Climate Change 
After two years, the heads of the world's 20 biggest economic and political powers are set to meet in Rome, Italy to talk about the world's most urgent issues including climate change, the supply chain crisis, and the international economy. 
The looming, extensional threat of climate change has been present for over 30 years. A draft communique that was seen by Reuters, and is subject to changes and negotiation, explains leaders will finally pledge to take crucial steps to cap global warming at 1.5 Celsius.   
The year 2050 had been set as a target to achieve carbon neutrality. UN climate experts say that deadline is pivotal to meet, but some of the world's biggest pollution contributors say they won't reach the target date. China, being the world's number one carbon emitter, aims for 2060. 
5) Biden Administration Sued by Over 19 GOP States Over Vaccine Mandates
Over 19 states with Republican leadership sued the U.S. government this Friday, seeking to block a Coronavirus vaccine mandate for federal contractors.  
On Sept. 13, Biden signed an order requiring all federal employees to be fully vaccinated by Nov. 22, 2021. As the vaccination is mandated, employees will take duty time or over time to receive their doses. Additionally, employees will be paid during recovery time.  
Employees who refuse to be vaccinated are subject to discipline, including termination.   
Attorney Generals in Missouri, Nebraska, Alaska, Arkansas, Iowa, Montana, New Hampshire, North Dakota, South Dakota and Wyoming signed one lawsuit arguing the order violates the federal procurement law and is unconstitutional.  
Another group of states including South Carolina, Georgia, and West Virginia, also filed a lawsuit of the same nature against Biden. Texas has filed one individually, with Florida filing a similar one the day before. They also argue the mandate infringes on state powers as it encompasses one-fifth of U.S. workers. 
Read all of the sources used in this article!