A Food Review of Rice Alley: 'Cook with Love'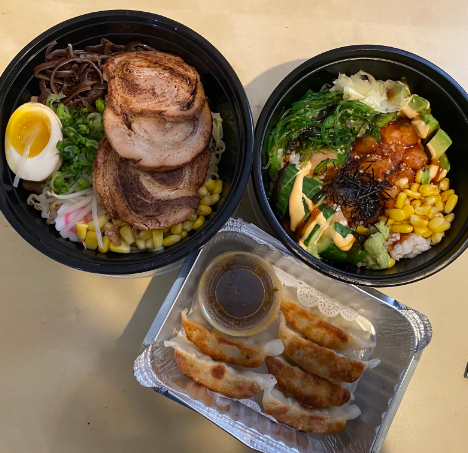 Aurora Tellkamp-Pappas
Nov 13, 2021
The Gainesville area has been rapidly growing, as Chick-Fil-A and Chipotle are no longer the only meal options. The Prince William area has expanded its tastes to be more inclusive of different kinds of cuisine. 
One of the newest hot food spots in the Gainesville area is a ramen shop called Rice Alley. It's located at 6838 Piedmont Center Plaza, Gainesville, VA 20155.
Ramen has become a rapidly growing food choice, but it has been a staple throughout Japan for generations. It's so popular that Japan has a Cup Noodles Museum in Yokohama. 
Fortunately, I had the opportunity to talk to both the head chef/owner of Rice Alley, Kenny Jiang, and his sister, Cindy Jiang, who is the manager for the restaurant.
While talking to Cindy Jiang, I wanted to get an overall feel of what they hoped to accomplish with their new restaurant and what environment they wanted to create. 
"This kind of operation is something I look forward to," said Cindy Jiang. "I want to help customers when they're here and hanging out with friends or family. I want them to feel comfortable, so they can go somewhere with hearty, good quality food that is not too expensive."
As you walk through the doors of Rice Alley, you can immediately sense the homey feel of the place. That feeling has only intensified because of the recent remodeling changes.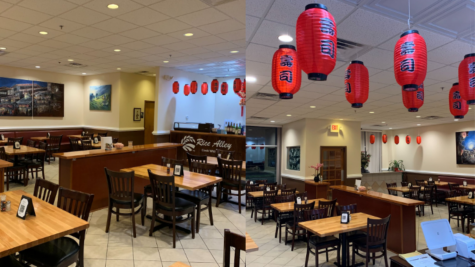 The first thing you will notice while walking into the restaurant is the mural. The mural features a night scene, which depicts an alley with vendors giving out food. 
Cindy Jiang made sure to show me the painting as they had commissioned it to be custom for the Rice Alley location. She also touched on the inspiration behind serving ramen and rice dishes in her food eatery.
"We were inspired by Asian food eateries and street culture, in which people are specialized in a particular food," said Cindy Jiang.
Asian nightlife helped create that idea and significance to them. They chose to represent that by the painting commissioned in the restaurant. 
For the food itself, my friend and I had ordered the Rice Alley Signature Ramen, Salmon Poke Bowl, and the Pork Gyoza.
Cindy Jiang took our order and was very patient, as we could not figure out what to order. Everything on the menu looked too good to only pick one meal. After we placed the order, the wait time was fairly quick for what we ordered. When our meal came, the presentation was very meticulous even though it was takeout order. 
The first thing we dug into was the Pork Gyoza. The filling was paired well with the sauce that was given, and was definitely served best with it. Similar to everything on the menu, the delicious side sauce was made from scratch by the owner, Kenny Jiang.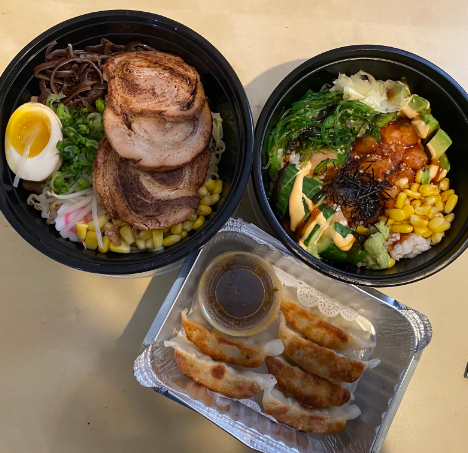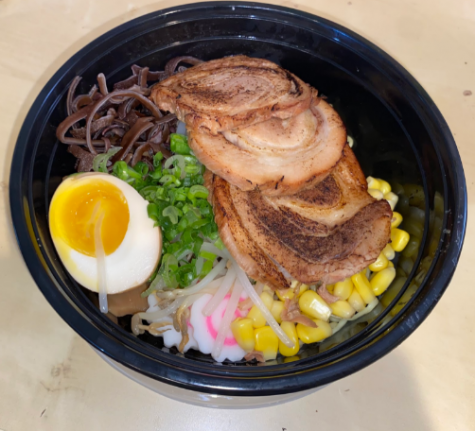 I ordered the Rice Alley Signature Ramen in hopes of alleviating my scratchy throat and it did just that. As I had taken a sip of the broth I felt a bit closer to how I had normally felt. The broth itself was one of my favorite things about the dishes. You can tell it is so well crafted and paired with all the toppings that are in the ramen bowl. How I knew I was eating a good meal is when I noticed that as I was picking up the pork it had started to fall apart, and upon taking a bite it only reconfirmed my thought. 
I didn't eat the Salmon Poke Bowl, but my friend Nolan Washburn did.
"Not as much choice in ingredients, but still really, really good," Washburn said.
We both agreed that the overall presentation of the bowl was flawless and the display of the toppings on the bowl was extremely appealing.
Overall, I can say with confidence that I will be bringing each and every one of my friends here to get a hearty, warm meal once winter draws near. As for my personal rating overall I would give Rice Alley a 9/10. I appreciated the cozy environment they created in the restaurant. The only thing that I wish would have been available when I last visited was the option of sushi. However, since meeting with them, various sushi rolls have been added to their menu and new types of ramen. In the interview with Cindy Jiang, she stated that they intended to add various sizes for their ramen selection. They had also spoken about utilizing the sushi bar that they installed. I'm so excited to finally be able to see it used. 
Rice Alley's slogan is "Cook With Love." The slogan is truly fitting, as it represents who they are as a community and business. As expected, I will be returning to Rice Alley very soon.