Mac Miller's 'Faces' Lives Up to the Hype
A review of the classic Mac Miller mixtape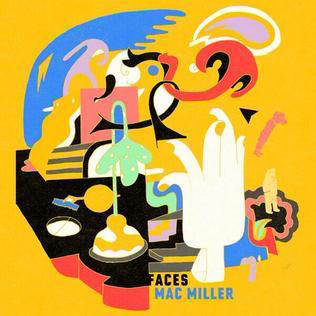 Coming out of Pittsburgh, not many in the Hip-Hop community took Mac Miller seriously. He was looked at as just another late-2000s frat rapper, in the same vein as the likes of Asher Roth and Sammy Adams. And that's what he was, at the time. You still hear The Spins, a track off of his light, carefree record K.I.D.S, played at parties everywhere. However, Miller never saw himself as a one-note party rapper, and he exemplified this masterfully on 2013's Watching Movies with the Sound Off (WMWTSO).
This was a massive departure from his previous sound; instead of rapping about being hungover, Miller instead explored his own mind, delving into topics such as mental health, depression, and drug abuse, accompanied by artists who you would never see on a Miller album from 2010, including Earl Sweatshirt, Action Bronson, and Flying Lotus.
In many ways, Faces is an expanded version of WMWTSO. It explores many of the same themes, has similar productions, and many of the artists featured (Sweatshirt and Top Dawg Entertainment's Ab-Soul) return. However, there are more tracks, and the features are even more left field, including legendary Houston rapper Mike Jones on the track Uber, Sir Michael Rocks of the underground duo The Cool Kids on What Do You Do, as well as his alter ego Delusional Thomas on the ScHoolboy Q assisted Friends.
The project kicks off with Inside Outside, a track that establishes much of the themes heard across the mixtape. The song opens with the lyric "Should've died already/ I should've died already/ Came in, I was high already." These three bars establish two of the major themes across Faces: death and drugs. 
The track comes across as relatively boastful, mostly due to the triumphant horn-laced beat from Thundercat, despite the dark lyrics suggesting otherwise. "Why the […]  you need me?/Don't you know how to fly already?" asks Miller, suggesting that he doesn't see a point in staying on earth any longer, a theme that is explored most heavily on the tape's final cut, Grand Finale. 
Here We Go, the next song on the album, sports some of the most confidence ever exuded by Miller. "Polo Pajamas, I think I made it/I showed my mom my first million, she damn near fainted/The rich and famous, so nice to make your acquaintance/The legends put out their latest, I feel that it sounds outdated." Miller is going full on braggadocio throughout this track, as he proclaims he "did it without a Drake feature." However, like on most songs on the album, Miller's drug abuse ominously pops up again and again. "Cocaine ether creates a strange creature/They wasn't hearin' me till I […] with a Brainfeeder." As well as giving credit to the drugs that spur some of both his and other artists' best work, this line works as a double entendre. Brainfeeder is slang for drugs and is also a record label that many of his frequent collaborators associate with, including Thundercat. The Brainfeeder line is just one of many that explore Miller's fascination with death, and his acceptance that it's inevitable.
These themes explored in the first two tracks expand greatly into the rest of the album. More braggadocious and carefree cuts appear, such as the Sir Michael Rocks-assisted What Do You Do where the two rappers spit playful bars such as "Me and Mikey go back like Bron-Bron's headbands", poking fun at a pre-Rogaine LeBron's receding hairline, as well as the Rick Ross collaboration Insomniak, which is essentially a Maybach Music track: the only difference being Miller replacing Meek Mill or Wale. However, the album features many tracks that explore Miller's drug addiction and fascination with death, most notably Rain, New Faces V2, and the weary outro Grand Finale. 
The first of these cuts, Rain, features an opening verse from Los Angeles rapper Vince Staples, where he details his life growing up in Compton, while simultaneously pondering why it happens to him. "Stray bullet hit my brother in his […] face/What's fate when a person don't deserve what he get?/Shootin' reckless at the father, almost murdered the kid/Or is it karma for the […] that both the parents had did?" The last line in particular, where Staples discusses his parents, speaks to the theme of death throughout Faces. The actions that got Staples' brother killed can be reasonably compared to the drugs that eventually killed Miller, which makes this dreary song even more ominous.
The second verse, Miller's, contains more drug and death imagery. "Sniff the same […] that got Whitney, the high heal depression/My temple feel the metal coming out the Smith & Wesson, bang/Say a prayer, leave my brains on the tile floor/My […] hate me, always tell me I should smile more/Off them drugs that hit you in your spinal cord." In these lyrics, Miller compares his drug use to that of legendary Soul singer Whitney Houston, who passed in 2012 due to drowning in a bathtub over a cocaine overdose, while contemplating suicide from a gunshot to the head. 
New Faces V2, which features Earl Sweatshirt and Da$h, is another track that heavily discusses drug use. In the first verse, Sweatshirt combines his elite lyricism with bars detailing his heavy use of marijuana, and how it helps him cope. Midway through his verse, Sweatshirt raps "Thick lens coverin' my eyes now/They ain't bright, I'm just high now/And if there's a different way to clear my mind out/I need to find out, I'm doin' fine now". These bars allude to his drug use, and how it's become normal to him. In his verse, Miller once again alludes to Whitney Houston. In the very first lines of his verse, Miller raps "Yeah, well, Isn't he dizzy off the ups and downs?/Got a lil' Whitney, put it in a blunt for now/[…] was supposed to get me high, why the […] I wanna die now?". These lines once again refer to Miller's fascination with death, and how he believes it is ominous due to his drug use, similar to what happened to Houston. 
The final song on the album, Grand Finale, is arguably the grimmest. Long rumored to be a suicide note, the song contains many lyrics alluding to his early death. In the chorus, Miller sings "Let us have a grand finale/The world will be just fine without me/The clown got a smile on his face/Slow it down, we goin' out with a bang." These lyrics speak to Miller's desire to die, and how he is at peace about it, as long as he goes out with fireworks. Later in the song, Miller raps "It'd be nice to get to sit with Mickey Weiss/Shoot the […] bout life, he'd be pissed I'm sniffin' white/Never got to see me grow up/How long it take to live a life?/I'm a bit surprised that I'm even still alive/Mixin' uppers and downers, practically suicide". In these lyrics, Miller refers to Mickey Weiss, his deceased grandfather. He professes how Weiss would be disappointed in his life, as he claims that Weiss never got to see him grow up, thus painting Weiss as a figure that never saw Miller at his lowest point. He also discusses his drug use, claiming that he's practically killing himself by mixing different drugs.
This is a very long project, clocking in at an astounding 91-minute run time, as well as containing 25 songs. All of these songs contribute something to the project, whether they're boastful, depressing, or a combination of both. The jazzy production, Miller's clever wordplay and slick flow, and the cleverly chosen features all combine to make one of the best projects of the 2010s. It's one you can listen to in any mood, and it will still hit, no matter what. So please, if you haven't, please listen to this.