Now You Know: Weeks of 12.18.21 to 01.01.22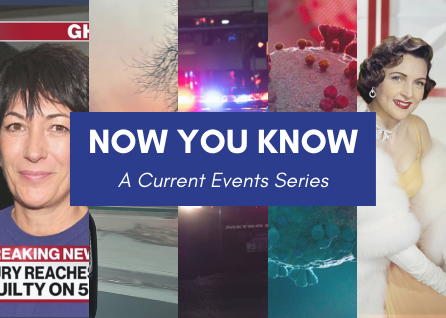 1) Ghislaine Maxwell Verdict (TW: sexual assault)
"She knew what was going to happen to those girls."
That was a part of the opening statement by federal prosecutors in the case against Ghislaine Maxwell, who on Dec. 28, 2021, was convicted of 5 of 6 counts, including sex trafficking, and now faces up to 65 years in prison.
Ghislaine Maxwell, a British Socialite, has long been associated with the late financer and convicted sex trafficker Jeffrey Epstein. She aided Epstein in trafficking teenage girls, some as young as 14, and groomed them to be sexually abused by him. Three of the four women who testified in court this week said Maxwell participated in the sexual abuse as well.
As the sexual abuse took place years ago, the defense bargained on exploiting the unreliable nature of memory with witness testimonies. Minor details in witness/victim statements like date, or location were varied, but their central message, that young children were groomed by Maxwell to be sexually abused by Epstein stayed the same. Maxwell herself did not testify.
Over the course of 10 days, prosecution presented 24 witnesses. That includes four of the girls who were sexually abused.
The jury deliberated for five days before unanimously finding Maxwell guilty of 5 counts. Maxwell now faces up to 65 years in prison. Her team has said they're prepared to appeal.
2) Colorado Fires
Tens of thousands of residents between Denver and Boulder, Colorado fled their homes after wind-fueled grass fires blazed through 6,000 acres in hours, incinerating multiple buildings and over 580 homes on Thursday.
Despite the apocalyptic-like scene and the fire that was fueled by winds hurling up to 110mph no immediate deaths have been reported.
The Marshall fire, named for its location near the community of Marshall, destroyed a Target shopping complex, an Element Hotel, and shut down part of US Highway 36.
Governor Jared Polis (D) has declared a state of emergency. Initial reports said it may have been toppled powerlines that caused a grass-fire following a very dry fall, and a winter almost devoid of snow, but that has been disputed. The cause is still being investigated.
3) Teen Cedric Lofton Dies in Law Enforcement Custody
At 17-years-old Cedric Lofton, a black teen, was handcuffed and forced to lie facedown by staff at a Juvenile Center in Wichita, Kansas. He died two days later.
Lofton had previously run away from his foster family due to a mental health crisis, and returned home on Sept. 24, the same day he was arrested.
Here's a timeline of the arrest on Sept. 24, 2021:
1:00 am: Lofton returns to his foster family. Officers from the Wichita police department respond to a disturbance call when they first find Lofton. All three responding officers were white. It was reported that Lofton was "behaving erratically" and appeared "paranoid." The teen resisted arrest by assaulting the officers after they urged him to voluntarily seek mental health treatment. He is then arrested on suspicion of battery on law enforcement.
2:45 am: Lofton is put in a cell.
4:20 am: Lofton is let out to use the restroom when he punches a staff member leading to an altercation with multiple staffers. According to the autopsy, Lofton's ankles are shackled at this time, and he was moved to the floor where he lied face down and continued to struggle.
5:15 am: Lofton calmed down, but when staff check for a pulse, they couldn't find one. Staff began compressions and called emergency personnel. He was taken to a hospital and died two days later.
The autopsy continued to find that Lofton's death was due to the prone position he was forced in and ruled his death a homicide. The death draws parallels to George Floyd's death in May of 2020. Floyd was also put into a prone position where he was facedown when he died. Since then, the prone position has been called into question. As a result, attention is being drawn to the health risks associated with the prone restraint.
4) Record Coronavirus Cases
For the second day in a row, the U.S. has set a record of daily Coronavirus cases at over 580,000 cases on Thursday. Almost 100,000 more than the day before.
As of Dec. 31, 2021, the US has hit 54.7 million cases since March 2020, the start of the pandemic. As friends and families have gathered to celebrate the holidays and the New Year, cases are expected to continue to rise.
Scientists have urged everyone to get the vaccine and a booster. They've especially pushed Coronavirus testing before gathering. There is, however, a shortage of tests, and they've been difficult to get. As many schools have decided to make testing mandatory before returning for the new year, test shortages might affect timelines by possibly causing a delayed return to school for students and staff.
5) Actor Betty White Dies at 99
Her award-winning career lasted over eight decades. She starred as Rose Nylund on "The Golden Girls," and played Sue Ann Nivens on the "The Mary Tyler Moore Show." She won one Daytime Emmy and five Primetime Emmys amongst other awards.
In a tweet, Ryan Reynolds, her costar in The Proposal (2009) captured the feelings of many around the world. He said "The world looks different now. She was great at defying expectation. She managed to grow very old and somehow, not old enough. We'll miss you, Betty. Now you know the secret."
Read all of the sources used in this article!