Now You Know: Weeks of 01.02.22 to 01.15.22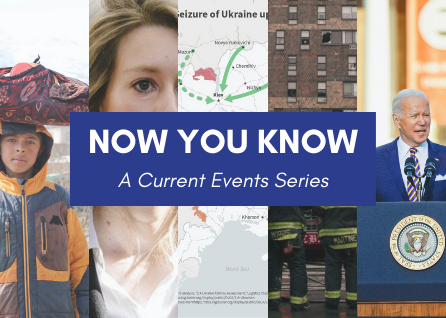 1) A Humanitarian Crisis in Afghanistan
Since the U.S. withdrew troops from Afghanistan, a humanitarian crisis has slowly been developing. As the relentless, cold winter is setting in, the crisis has rapidly evolved, and civilians are being forced to choose between warmth and food.
When the U.S. pulled troops completely out of the country, they also froze $9.5 billion in assets that are in the states but belong to the Afghan Central Bank. This way, the Taliban won't have access to the money.
Antonio Guterres, the UN Chief, has pleaded with the U.S. to unfreeze these assets. With the money, Afghanistan could initiate a banking-system and prevent a possible social and economic collapse.
As of September, the end of the U.S withdrawal of Afghanistan, there has been little media coverage on the crisis. This isn't new; according to the Tyndall Report, in 2020, a total of 5 minutes of airtime have been dedicated to Afghanistan.
2) Elizabeth Holmes Charged with Wire Fraud
Elizabeth Holmes was hailed the next Steve Jobs of Silicon Valley. She had invented technology that could conduct 1,000 medical tests from a few finger pricks of blood. Today, she faces up to 20 years in prison.
At 19-years-old, Holmes created Theranos; a medical testing start-up that would go on to compete with Quest Diagnostics and Laboratory Corp. of America Holdings – the two largest medical testing companies in America.
Dubbed the "Edison Machine," after the inventor Thomas primary piece of technology meant tests could be performed at significantly lower costs and with smaller amounts of blood, something that was revolutionary to testing in hospitals.
The company raised over $700 million from investors and was valued at $9 billion in 2013 and 2014.
While Holmes claimed the Edison machine could test for a 1,000 diseases and conditions, realistically it could only test for 12; the technology didn't work. Employees later reported that the company would dilute blood, which adulterated the sample, to increase its volume and used that to test on traditional machines. In October of 2015, the Wall Street Journal, published an investigative article that highlighted struggles the start-up faced behind-the-scenes. The company was officially dissolved in 2018 after Holmes's was charged by the Attorney General's office in Arizona.
After two years of legal battels, Holmes, and her partner, Ramesh "Sunny" Balwani, were charged with with two counts of conspiracy to commit wire fraud, and nine counts of wire fraud on Jan. 3. Holmes won't be sentenced until September.
3) Russia-Ukraine Conflicts
U.S. intelligence indicates Russia has sent operatives into Ukraine in a "false-flag" operation.
This follows when Russian president Vladmir Putin demanded that Ukraine be kept out of NATO in the end of 2021. Putin threatened military action if it isn't guaranteed.
So, for the last few weeks, tension between Ukraine and Russia has been soaring. Russian troops have been stationed along the border, creating a looming threat of an invasion into Ukraine at any moment, even after the West has advised against such aggressions.
Jens Stoltenberg, the secretary general of NATO, has warned that "any force against Ukraine will be a severe and serious strategic mistake by Russia, and it'll have serious consequences." This only led Russia to want further, "ironclad, waterproof, bulletproof, legally binding guarantees" that Ukraine will never become a member of NATO.
Putin sees Ukraine as an extension of Russia, and NATO as an aggressor, as they push further east into former Russian territories. So, Russia want guarantees NATO won't accept Ukraine, pushing even closer to Russia. NATO counters with their "open-door policy," and that a nation has the right to choose for themselves if they want to join an organization.
There have been several U.S.-Russia talks on resolving the situation at the border, but Russia has not budged. On Friday, the U.S. accused Russia of sending prepositioned operatives into Ukraine to create an incident that would allow for a Russian invasion.
The story continues to develop.
4) 17 Dead in NYC Fire
Built in 1972, a 19-story residential building caught fire last Sunday. 17 people, including eight children were killed.
Here's what happened:
The fire was caused by a malfunctioning space heater in a Bronx apartment sometime before 11am.
The fire never left the floor in which it originated, but smoke traveled up to higher levels.
Most victims resided on upper levels of the building and most likely died from severe smoke inhalation.
It was initially reported that 19 people died. This was revised Monday and was a result of patients being transported to seven different hospitals.
Many of the apartments' residents were Muslims immigrants from Gambia.
Over 200 firefighters reported to the scene.
There were no major building violations or complaints against the building.
The building doors and fire alarm systems are being investigated.
There has been a GoFundMe page set up for the families displaced and struggling because of the fire. You can visit it and donate here.
5) Biden Calls on Senate to Change Filibuster Rules
During a speech on voting rights in Atlanta, Georgia on Tuesday, Biden expressed his frustration with Republicans in the Senate who have blocked a second Voting Rights bill.
He's now calling on Senate to change filibuster rules.
Filibuster is a loosely defined term, but generally refers to the action of prolonging a debate, thus delaying, or even preventing voting on a bill, amendment, resolution or ither questions. To overcome a filibuster and pass the Senate, a bill needs 60 votes.
Biden says "filibusters are weaponized, and abused." He continues to urge the Senate to change the rules that allow this. Without a change, it's unclear how the Freedom to Vote Act and the John Lewis Voting Rights Advancement Act, the two bill Biden wants passed, will get through the Senate.
Read all of the sources used in this article!