'Flowers for Friends': Patriot's New Valentine's Day Fundraiser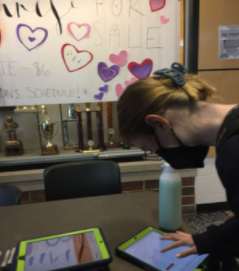 With Valentine's Day today, Patriot High School is buzzing with excitement as students prepare Valentine's gifts for their friends and significant others. Furthermore, a flower is a great gift and display of appreciation on the infamous day-of-love.
Patriot Leadership sold carnations for a limited time only from Jan. 31 to Feb. 11. Students could buy  flowers at the table set up in Commons One during their lunch periods. To advertise further, students from Leadership walked around lunches to ask students if they were interested in purchasing flowers. The prices to purchase were $2 for one carnation and $10 dollars for six carnations. That's a bunch of flowers for a bunch of special people.
"Flowers for Friends," the name of the activity, was a big hit among Pioneers as they scrambled to get flowers for the people that they care about. In fact, the flowers were such a big hit that  they sold out and Leadership raised approximately 1700 dollars. Now, Leadership is gathering the flowers that will be handed out to students on Valentine's Day.
All proceeds that Leadership earned from "Flowers for Friends" went towards the Patriot Key Club's American Heart Association fundraiser and Patriot's chapter of Morgan's Message, and flowers are planned to be handed out on Valentine's Day.