Now You Know: Week of 02.13.22 to 02.19.22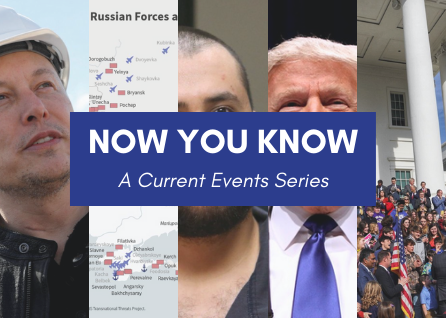 1) Neuralink Accused of Animal Cruelty
In 2016, Elon Musk founded Neuralink, a corporation that created a brain computer interface, something that would allow your brain to directly communicate with computers. Musk says Link, the chip that allows this to happen, could restore limb function, issues with hearing, and eyesight.
The chip itself is about the size of a large coin and is implanted into the skull through a Nueralink developed robotic surgery system. Described by Musk as a  "Fitbit in your skull with tiny wires," it records the signals in your brain, allowing direct communication with computers.
Now in 2022, Musk and his team appear to be close to starting human trials. Link has only been used on macaque monkeys and pigs.
But, questions about Neuralink's use and treatment of animals were raised in the last few days after claims by the Physicians Committee for Responsible Medicine that Neuralink subjected the monkeys to "extreme suffering."
As of Feb. 19, Neuralink confirmed that eight monkeys were euthanized but rejected all claims of animal cruelty and abuse.
2) Russia-Ukraine Conflicts
(Cont. from Weeks of 01.16.22 to 01.29.22)
Nearly 190,000 Russian troops are at the Ukrainian border, and every hour the threat of invasion becomes more imminent.
On Friday, President Biden said that he was convinced Putin has decided to invade Ukraine, including an attack on the capital, Kyiv where nearly 2.9 million people reside.
Biden, and several other NATO counties still urge Russia to choose diplomacy and continue to state that they are united in inflicting sanctions on Russia. Russia has only sent more resources and troops to the border. There is still hope for de-escalation, but it seems more unlikely with every passing day.
The story continues to develop.
3) Judge Tosses George Zimmerman's Defamation Case
On Feb. 26, 2012, George Zimmerman was told by 911 operators not to follow a "suspicious teen" he was concerned about. Zimmerman disregarded the instructions, followed the BQlack 17-year-old named Trayvon Martin, shot, and killed him in what Zimmerman claimed as self-defense. He was taken into custody and released the same night with no charges.
After 16 months of investigation and trial, he was acquitted on all charges.
Then, in 2019, George Zimmerman sued Trayvon Martin's parents for defamation.
The suit says he was abused by the civil process and conspiracy and alleged that he had been defamed by the Martin family's claims and actions. HarperCollins who published a book by Martin's parents about the case were also sued.
This week, judge John Cooper of Tallahassee, FL dismissed the case and the defendants. He wrote that "there can be no claim for conspiracy to defraud if there is no adequate stated claim for fraud," bringing to light the failure of Zimmerman in bringing any evidence of defamation.
4) Donald Trump to sit for Deposition
Former president Donald Trump, his son Donald Trump Jr., and his daughter Ivanka Trump, have been called to sit for deposition in the civil investigation into the Trump Organization.
The New York attorney general, Letitia James (D), has been investigating the financial discrepancies at the Trump Organization since 2019. James has been running both a civil and criminal investigation in tandem.
While a civil investigation can evolve into a lawsuit, a criminal investigation can evolve into an indictment, which means the defendant is then considered formally charged.
Trump and his family argued that James was biased and trying to inappropriately gather criminal evidence under the guise of a civil investigation.
New York Judge Arthur Engron rejected the Trump family's argument and ordered that they need to sit for deposition within 21 days.
5) Prince William County Schools Mask Mandates End
Prince William County Superintendent, Dr. LaTanya McDade, wrote in a message that "masks are no longer required for PWCS students at school effective Tuesday, February 22."
Virginia law SB 739 was passed earlier this week with new masking policies and guidelines.
The bill allows for "the parent of any child enrolled in a public elementary or secondary school, or in any school-based early childhood care and education program, to elect for such child to not wear a mask while on school property." This stands despite of CDC recommendations which currently is to continue wearing masks.
Masks are still required on school buses for students, all PWCS employees, and volunteers working in a classroom setting.
It's asked that students and staff continue to monitor for COVID-19 symptoms and stay home when ill.
Read all the sources used in this article!