Now You Know: Week of 02.20.22 to 02.26.22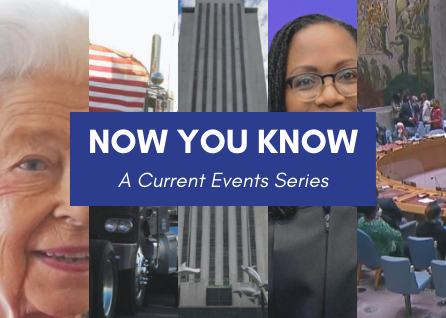 1) Queen Elizabeth II Contracts Covid-19

On Sunday night, Buckingham Palace announced that the Queen has Covid-19 with "mild cold-like symptoms". The announcement also claimed that she would continue light duties until she was free from the Covid-19. 
After this announcement, Hollywood Unlocked broke false news that the queen "has passed away". This information was under speculation for some time before ultimately being proven false. Hollywood Unlocked later retracted their statement and then proceeded to write an article as to why they believed the monarch had passed.
Another source stated that the queen was taking Ivermectin, a banned horse medicine, for treatment against Covid-19. This was later proven to be false.
The queen still has Covid-19 at the moment and is still exhibiting the same symptoms since the announcement. 
2) Trucker Convoy Moves Toward DC

Inspired by the trucker convoy in Canada, 40-50 trucks and other vehicles plan to clog beltway traffic heading towards Washington DC in order to protest Covid-19 mandates and regulations. These truckers call themselves the "People's Convoy" and they plan to travel from California to Washington DC and have already begun their journey. 
The District of Columbia has made preparations for this group's arrival by deploying 700 unarmed National Guard members to help navigate traffic. The Canadian convoy caused a shutdown of the nation's capital Ottawa, so this preliminary deployment would help this protest end much quicker than the one there. 
These truckers get a majority of their support from far-right groups and people. They believe in fewer Coronavirus guidelines and restrictions from the government, hence their end location of Washington DC. 
3) Florida Passes The "Don't Say Gay" Bill
On Thursday, the Florida House of Representatives passed new legislation regarding certain discussions of LGBTQ+ topics in schools. This legislation does not allow for any instruction in relation to LGBTQ+ topics. Not long after, numerous LGBTQ+  support groups claimed their condemning of the bill
Florida Gov. DeSantis (R) has expressed his support for the bill but has not stated whether he would sign it into a law. This bill would further parent's involvement in a student's education, something DeSantis strongly believes in. President Biden has spoken on his disagreement with the bill, saying that it is a hateful bill.
Despite the disagreements amongst the public, the bill is on its way to the Florida Senate where it will then, once decided in the Senate, be sent to Gov. DeSantis. 
4) Biden Announces Ketanji Brown Jackson As His Supreme Court Nominee

In January, President Biden vowed to nominate a Black woman to the US Supreme Court. On Feb. 25, he did just that by nominating Kentaji Brown Jackson for Supreme Court Justice. 
Kentaji Brown Jackson clerked for 13 years under Justice Stephen Breyer, who currently holds the position she would assume. She's also a Harvard Alumna with numerous years of experience in the judicial system. 
Despite her stellar credentials, many Republicans have been attacking Biden's pick and claiming that she is "a pawn of the radical Left" because he stated he wanted to diversify the court early on. 
If voted in, Jackson would become the first Black woman on the Supreme Court and the second youngest. 
5) Russia Declares War On Ukraine
​​In a span of 48 hours that began on Wednesday night, Russia declared war on Ukraine, invaded the capital, and took hold of Chernobyl. 
This declaration of war began with Russian President Putin's "special military observation" where he launched missles on numerous cities all across Ukraine. In doing so, Russia captured control of the Chernobyl nuclear power plant which is significant because Russia now holds power over NATO not to interfere. 
Russia also bombed Ukraine's capital, Kyiv, forcing many to leave their homes for evacuation. In only the second day of the war, the death toll is already in the hundreds. The complexity of this war is that it didn't just begin this year. It is a result of tension for almost 20 years among the countries. 
On Feb. 28, Russia and Ukraine met at the Belarusian border for negotiations. At this meeting, President Putin threatened nuclear power. At the moment, Russia has yet to take control of other major cities in Ukraine but much of the power lies on the Russian side because of geographical factors such as Russia bordering Ukraine on almost all sides. 
Despite the clear advantage Russia has, there is still hope for Ukraine to gain the upper hand as they haven't used offensive strategies yet. However, when President Zelenksy was offered evacuation by the United States, he declined and is planning on fighting with his people. 
Read all the sources used in this article!