Now You Know: Week of 2.27.22 to 3.5.22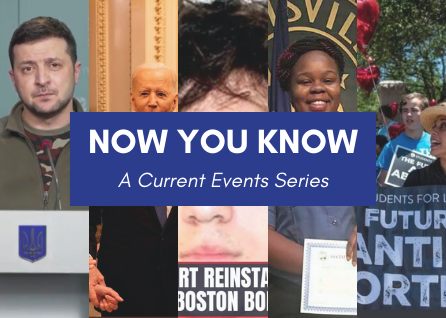 1) Russia-Ukraine
1 million Ukrainian civilians have been forced to flee their home, and the death toll of Ukrainian civilians has risen to an estimated 331.  
Russian troops have now been in Ukraine for 10 days. While Ukrainian forces have been able to hold Kyiv, Russian troops are making their way around the rest of Ukraine, and displacing millions of people.
Along with Kyiv, northeastern Kharkiv and Mariupol are still being attacked. Kherson fell on March 2 and marked the first major city Russia has captured. They've also captured nuclear power plants Zaporizhzhia and Chernobyl.
Diplomatic efforts have consistently failed and now Ukraine president Volodymr Zelenskyy has called for a no-fly zone over the country. A no-fly zone is an area where aircraft cannot fly for any reason. NATO has been reluctant to establish one because doing so would require military enforcement.
Valdimir Putin says "any movement in this direction will be considered by us as participation in an armed conflict," starting a bigger war. 
Donations to help Ukrainians can be made here.
2) State of the Union Address
On March 1, President Joe Biden gave the State of the Union address. Here are key points he discussed:
Russia-Ukraine and gas: Biden began the speech by highlighting the economic sanctions NATO and the U.S. have imposed on Russian banks and oligarchs. He then explained that he's working to ease the stress those sanctions have caused on Americans, like soaring gasoline prices. He announced he plans on releasing another 30 million barrels.
Healthcare: Biden called for lower prescription drug prices, and capping the cost of insulin at $35 a month. He spoke about how the "American rescue plan helped working people and left no one behind," as families on Affordable Care Act plans save $2,400 a year.
 Unity Agenda: To end his speech on a bipartisan note, Biden proposed a "Unity Agenda." He then outlined "four big things we can do together."
Beat the opioid epidemic

Take on mental health, especially for children

Support our veterans

End cancer
3) Boston Marathon Bomber
On Friday, the Supreme Court reinstated the death sentence of Dzhokhar Tsarnaev, now 28, who was convicted of perpetrating the Boston Marathon bombing in 2013.
The court's justices ruled 6-3 to impose the death sentence, and all three liberal justices stood united in dissent.
On April 15, 2013, Dzhokhar Tsarenaev and his older brother Tamerlan Tsarnaev detonated two pressure-cooker bombs hidden in a backpack near the finish line of the Boston Marathon. Three people died and over 260 others were injured.
Tamerlan Tsarnaev was killed during a shootout with law enforcement on April 18, but Dzhokhar Tsarnaev managed to get away, and pleaded not guilty in July of that year.
Then in 2015, he was found guilty on 30 federal charges and sentenced to death. Dzhokar Tsarnaev appealed the decision on the basis that Tamerlan Tsarnaev coerced his younger brother into helping carry out the attack.
Now in 2022, Justice Clarence Thomas writes "Dzhokhar sought to divert the sentencing jury's attention to a triple homicide that Tamerlan allegedly committed years prior, though there was no allegation that Dzhokhar had any role in that crime," explaining that the argument of coercion was a distraction with no cohesive evidence.
As the government has placed a moratorium on executions, and Biden is staunchly against the death penalty, it's unlikely Tsarnaev will be facing execution soon.
4) Ex-Officer in Breonna Taylor Case Found Not Guilty
Ex-Officer Brett Hankison was the only officer tried in the case of a botched raid into Breonna Taylor's apartment.
He wasn't tried for causing Taylor's death, but for firing bullets through Taylor's windows and sliding glass door without a clear line of sight. The bullets went into a neighbor's apartment, endangering the couple and child who lived there.
Hankison was then charged with three counts of wanton endangerment which could lead up to five years in prison and is seen as a low-level felony.
On Thursday, Hankison's team argued he acted in defense of his fellow officers. After three hours of deliberation, jurors acquitted the ex-officer on all three charges.
5) Florida Senate Passes Bill to Ban Abortion 
Last Thursday, Florida's Senate voted 23 to 15 to ban abortion after the 15th week of pregnancy.
The state house approved the bill in February, and the state is now waiting for Gov. Ron DeSantis (R) to sign. Gov. DeSantis has long expressed his support of the bill.
The new ban makes no exception for cases of incest, human trafficking or rape. The only exception is if the mother's life is at risk and they've been assessed by two physicians.
In a tweet, Biden expressed his contempt for the bill, calling it dangerous. Vice President Harris also made a similar statement saying, "the Biden-Harris Administration will continue to do everything in our power to protect access to healthcare and defend a woman's right to make decisions about her body and determine her future."
Read all the sources used in this article!