Tom Brady Announces Retirement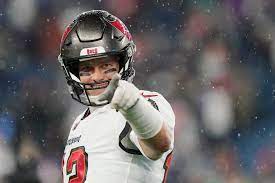 After 22 seasons in the NFL, Tom Brady has officially announced his retirement on Tuesday, Feb. 1, 2022. In an Instagram post, he explained that he is, "not going to make that competitive commitment anymore." 
Brady, 44, piled up numerous records including most touchdown passes (624) and most passing yards (84,250) in his 22 seasons, of which 20 were with the New England Patriots. 
He is widely considered as the greatest quarterback in NFL history. He ended his 22nd season, starting 316 of 318 games, and an all time record of 243-73-0. 
A week after his announcement, there is suspicion that lacing up the cleats in the future is a possibility. He sounded confident in his decision to retire, but in Jim Grey's podcast, he left the door open when asked about ever coming out of retirement. 
He stated that, "I think that's the best way to put it, and … you never say never. At the same time, I know that … I feel very good about my decision. I don't know how I'll feel six months from now."
However, the reigning Superbowl MVP remains under contract with one season left with the Buccaneers. The Buccaneers have a spending limit on players so for salary-cap purposes, he will most likely stay on the roster until June. His rights will remain the same unless the Bucs place him on their reserve/retire list prior to 2022.  
Brady's career long friend, Rob Gronkowski, 32, spoke on Brady's retirement at the NFL Honors. He explains that they were, "an incredible combo. So with him not playing anymore, it kind of opens up my options because when we were playing together, it just made a lot of sense. We had a great connection, chemistry, everything was there and we wanted to play with each other while he was still playing and while I was still playing."
They have played together on two different teams for twelve overlapping years. Their chemistry is described as "incredible" connecting on 90 touchdowns total. Despite Brady's retirement announcement, Gronkowski is still indecisive about hanging up his cleats, for good this time. 
In March of 2019, Gronkowski abruptly decided to retire from the NFL. However, after watching his friend sign with the Buccaneers in March 2020, Gronkowski decided to come out of retirement  and join his friend in Tampa. 
Their friendship has grown on and off the field, so it isn't surprising that Brady's decision is weighing heavily on Gronkowski. Despite Brady leaving the field, Gronkowski is looking forward to the next season. His girlfriend told TMZ that she, "would love to watch him play football some more." 
As the days go on, more news trickles in on whether Brady was "forced" into retirement. The Bucs have less than seven million dollars in cap space available with multiple star players entering free agency. 
In 2021, Brady signed a 1 year contract worth $25 million. That takes up about ¼ of the offenses' cap space. If they were to put him in the retired/reserved list it would leave the Buccaneers with a $32 million dead cap hit and almost $11 million in lost salary cap space. 
However, if they waited to release him until June 2, they'd be left with only an $8 million cap hit and instantly save $12.8 million. This would also set them up for savings in the 2023 season. 
They could be forced to let most of their free agents walk away if they don't do some major reshuffling in their cap salary situation. This could have forced Brady's decision to retire. 
His retirement is still up for debate on whether "The Goat" could possibly see a future with another football team or if he is permanently hanging up the cleats. Is he officially done after 22 years?