Now You Know: Week of 03.05.22 to 03.13.22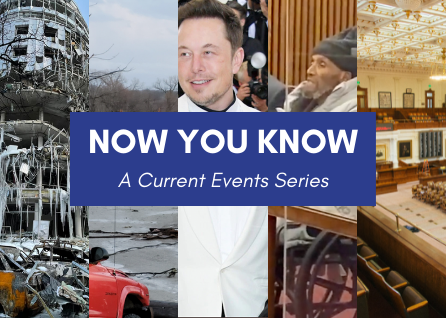 1) Russia-Ukraine
Fighting is intensifying around the Ukrainian border and capital. With support from numerous allies, Ukraine has been able to hold onto a majority of their cities.  
However, Russia is growing intolerant towards this support and is warning the United States against sending arms to Ukraine. Some police departments in the United States have already sent surplus supplies to Ukraine even after Russia's warning.
Many argue that this could prolong the war because "more supplies equates to more violence". Others argue that this is a great way to help without getting integrally involved in the war. Though, with Russia's threat, there is some uncertainty to the effect on America this may hold.  
As of March 3, the number of displaced Ukrainians has reached over two million and nearly 13 million have been  directly impacted by the war. This has been the largest since WWII.
2) Iowa Tornadoes
We are now up to 13 confirmed tornadoes in Iowa from Saturday's severe storms. That makes this the 3rd largest March tornado outbreak in Iowa recorded history. #iawx pic.twitter.com/MlqWSNladk

— Local 5 Weather (@Local5Weather) March 10, 2022
On March 5, multiple tornadoes, which began as a storm, swept through central Iowa killing seven and injuring numerous others. Among those killed were two children under the age of five, and five adults. 
10,000 people were affected by power outages around the capital, Des Moines. Multiple towns near the area are trying to rebuild after the storms went through the area or devastated the are for over eight hours. 
This is said to be the worst string of tornadoes in Iowa since May 2008 where over 300 homes were ruined and nine were killed. The rebuilding efforts for this storm are still in effect today. 
The damage from Saturday's storm has been proven to be from 13 separate tornadoes. The people of Iowa not affected by the storm have been helping provide shelter and hope to those in the affected area. 
3) Grimes and Elon Musk Welcome their Second Child Together
In a Vanity Fair Interview, Grimes revealed that she and Musk welcomed their second child, a baby girl, via surrogate. Grimes mentioned in the interview that her pregnancy with her first child was difficult so they went with surrogacy for the second.
Since the birth of their first child, X Æ A-Xii, the two have faced controversy and confusion for their choice in baby names. Some argue that it's unnecessarily obscure and a joke to name a child that way. However, this didn't stop the couple from naming their second child in the same way. The child's full name is Exa Dark Sideræl Musk or  "E" for short. 
4) Isaiah Andrews' Wrongful Imprisonment
After 45 years behindbars, 84 year old Isaiah Andrews  was declared wrongfully imprisoned for the 1974 Cleveland murder of his wife Regina Andrews. He was accused, and wrongfully charged, or killing his wife over four decades ago. 
He was exonerated last fall and had filed a federal civil rights lawsuit against the City of Cleveland in the U.S. District Court last month. With evidence that was hidden from the defense in the original trial, the Ohio Innocence Project helped prove him as wrongfully imprisoned. 
Andrews was proven not guilty in the retrial in October, but was officially declared wrongfully imprisoned on Thursday. 
In a press release, he stated: "They stole decades of my life. It's time for them to take responsibility." 
Later in the month, he will receive financial compensation from the state and will walk away a free man. 
You can donate to his new beginning here.
5) Texas Supreme Court Rejects Another Challenge to Abortion Ban
Texas' all-Republican Supreme Court rejected yet another challenge on the Heartbeat Act. The American Civil Liberties Union, an advocacy organization, filed the lawsuit against against the abortion ban. The court wouldn't hear the case. 
The Heartbeat Act has been formulated to escape judicial review in federal courts because of constitutionality. This law allows anyone to sue those who aid in any abortions that take place within six weeks of conception. 
Much controversy has stemmed from this bill since its beginning. People argue that six weeks is not enough time to find out about a pregnancy in the first place while others argue that a fetus isn't alive yet at this time. These arguments are products of the multiple decade long debate of pro-life v. pro-choice. 
It is clear that these advocacy organizations will not stop here to aid in a woman's right to choose and the debate will linger on further.
Read all the sources used in this article!