Both Boys' and Girls' Patriot Swim Teams Place At States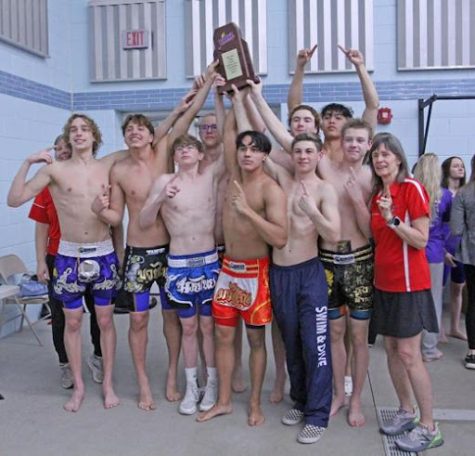 Both the boys and girls teams had amazing performances and even set school records. With the boys team placing 1st and the girls placing 2nd, at both districts and regionals. The boys continued on to win states and the girls placed 8th out of 25 teams. 
"A big factor to their success has been that all swimmers were both physically and mentally ready," Head Coach Bussian said. "They had consistent practices and competitions."
Patriot High School Swim is the only sports team to bring home their 2nd state champions title, their first one being in 2017.
Swimmers from the boys' team who competed in states include Ryan Chmielenski ('22), Brandon Gardner ('22), Landon Gentry ('22), Peter Gilbert ('22), Joshua Hochard ('22), Alex Martins ('23), Vincent Nguyen ('24), Boden Pearson ('24), Chris Shankle ('22).
Swimmers from the girls' team who competed in the state meet include Emily Buckley ('23), Stella Chierico ('22), Sienna Golembiewski ('23), Emily Haugen ('22), Ellia Kweon ('23), Alyssa Martel ('23), and Delaney Palenscar ('22). 
The long hours of practice helped in the end as Patriot was able to edge out its competition on the way to a near-sweep of the events.
"They had consistent practice and competition in the couple weeks leading up to the meets, no major breaks," Bussian said. "All were healthy (they had had time to recover from COVID or winter flu season) and performing at their best."
Patriot's many swimmers and divers had to deal with adversity throughout their respective events. Patriot faced challenges outside of the pool, too, dealing with the scheduling problems that have plagued nearly every winter sport as a result of an uptick in COVID-19 cases.
"Not having all team members at all meets due to COVID quarantine requirements or sickness or year-round meets was challenging this year," Bussian said. "It made achieving qualifying times for individuals and relays more difficult than usual. Other athletes stepped up and filled in the gaps, helping continue our winning streaks. Other teams were similarly affected."
Relays
Points are accumulated by winning both personal events and relays, however relays score more points.
The boys placed 1st in the 200 Yard Medley Relay swimming a 1:32.08 with Joshua Hochard swimming backstroke, Vincent Nguyen swimming breaststroke, Landon Gentry swimming fly, and Alex Martins swimming free. They also won the 400 Yard Free Relay going a 3:05.69 with swimmers Joshua Hochard, Alex Martins, Peter Gilbert, and Landon Gentry.
The girls placed 10th in the 200 Yard Medley Relay with a 1:49.31 with Delaney Palenscar swimming backstroke, Emily Haugen breaststroke, Sienna Golembiewski fly, and Alyssa Martel free. 9th in the 400 Yard Free Relay, 3:35.59 with swimmers, Ellia Kweon, Sienna Golembiewski, Emily Buckley, and Alyssa Martel.
Relay Anchor, Alyssa Martel, says that "getting everyone hyped and having everyone feel that energy leads to the relay's success." Haugen agrees that team spirit and motivation helps in the relays.
"I like just pumping each other up before we get up on the blocks," Haugen said. "Like 'you got it, you got it' and just working together as a team to finish." 
Haugen even mentioned how this year has been one of the best team bonding years. Team bonding is an important part of sports, even for individual events such as swimming. Good chemistry within the team transfers over to swimming in a race and can affect how a swimmer performs, especially in team events such as relays. 
Bussian has seen a clear improvement in the relays compared to previous years.
"Some swimmers have grown stronger and improved since the previous year," Bussian said. "We start arranging and rearranging the relays based on times and splits until the best relay arrangements are determined." Relay chemistry is important in order to score as many points as possible. By combining everyone's fastest individual event you can achieve a faster relay. 
Individual Events
Not only did both teams score points in relays but they also placed in individual events, meaning they got 8th or higher. 
Stella Chierico 8

th

100 Back 59.08
Landon Gentry 1

st

100 Fly 47.73

Landon Gentry 1

st

200 IM 1:49.16

Peter Gilbert 5

th

500 Free 4:37.12

Sienna Golembiewski 7

th

100 Fly 57.42

Emily Haugen 7

th

100 Free 52.66

Joshua Hochard 3

rd

100 Free 45.57

Joshua Hochard 4

th

50 Free 20.89

Alyssa Martel 2

nd

200 free 1:51.75 

Alyssa Martel 3

rd

500 Free 4:55.75

Vincent Nguyen 6

th

100 Breast 57.98
Landon Gentry placed 1st in both individual events. He went a 1:49.16 in 200 IM and a 47.73 in 100 Fly. Not only did he win his fly event but he also broke the 6A 100 fly record. Gentry says his success comes from "going to practice day in and day out for years and learning from my mistakes."
Long-distance specialist Alyssa Martel placed 2nd in 200 Free, going a 1:51.75, and 3rd in 500 Free with a 4:55.75.
Martel had a clear mindset during her long race.
"I swim faster, thinking about my turns, my underwaters, all the technical stuff and just reminding myself constantly of what I can do and how hard I've been working," Martel said.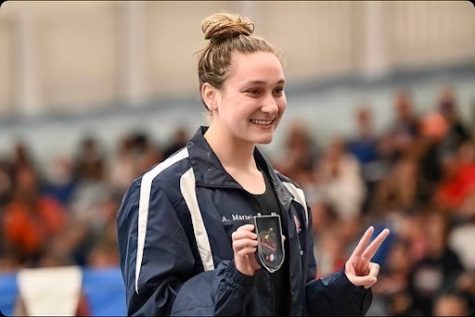 Team Captain, Emily Haugen, placed 7th in the 100 free with a 52.66. "This is the best I've done at states," Haugen said. 
Haugen worked hard throughout the season in order to be in her position of success.
"Pushing myself during practice to be the best I can be and pushing myself past that pain threshold and during those hard practices," Huagen said. "Just telling myself and reminding myself of my goal times and what I want to achieve."
Haugen says that she is a "nervous wreck" before all of her races. "It takes a lot of people and certain things to calm me down," Haugen said. "I usually like to visualize my race and I like to sit in silence and just tell myself to try my best and just give it my all."
Gentry described this season " it was just a very electric and exciting atmosphere." Overall both teams had a very successful season with an undefeated season for the boys, only one loss for the girls in the regular season meets and placing second at both Districts and Regions.