Euphoria Makeup Artist's Releases New Makeup Line
The popular HBO show Euphoria has taken over the media and everyone's Monday morning conversations. The anticipation of waiting for a new episode every Sunday and then dissecting it the days after has kept the show relevant and everyone entertained for eight weeks. But it's not just the events of the show that are talked about. One of the aspects that make the show stand out is the makeup, each character has a signature look that is carefully constructed to represent their inner thoughts and mental status. By using glitter, rhinestones, graphic liners, and colored eyeshadow, these bold and creative looks have created the euphoria makeup trend and people have been recreating these since the show has come out. The person behind all of these looks is the makeup designer/artist of the show Donni Day.
The Emmy award-winning makeup artist is releasing her own brand named Half Magic, inspired by euphoria, with products that can function for both wearable everyday looks and the crazy, over-the-top glittery looks that made the trends we see today. Day is releasing not only makeup products but as well as cosmetic tools to help apply and perfect your makeup. Day has not released any pictures of the products so far but has announced some items that she will be selling.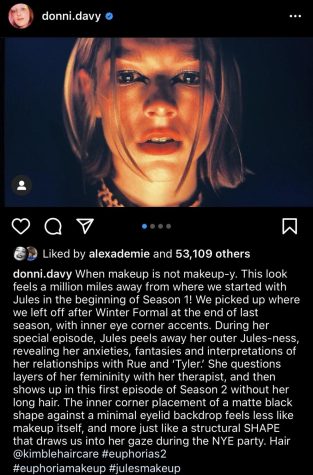 There will be, matte and glitter eyeshadows, liquid eye pigments glitter, rhinestones, lipstick with both neutral and bright shades, and an eyeliner tool to help create a sharp wing. While not much has been announced by the brand, she has mentioned that she used her products during season 2 of Euphoria and has posted Instagram pictures of drawings of looks using her makeup. There isn't an official launch date but it is expected to be released sometime in the spring.
With not much being announced, it's hard to tell the exact direction that Half Magic is going in. It seems that the brand will cater to a very wide range of products that can produce any look catered to your desire. When going on to Half Magic Beauty, there is a black screen with the quote "Space cowboy or glitter queen? Belle of the ball or neon boy next door? Bold or bolder? Follow your creativity down the rabbit hole and shape-shift into today's version of you with HALF MAGIC."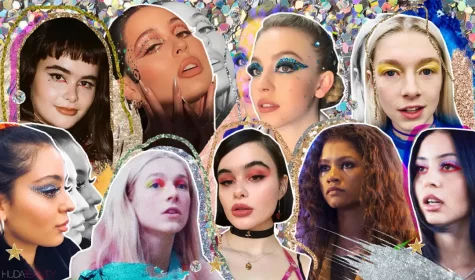 This brand is definitely for any makeup lover out there whether you have seen the show or not. But what does this mean for the average high school student?
We all love the makeup on the show, but despite the show trying to portray this as realistic, very few of us are willing to wake up at 4 am to get ready for school and wear a Maddy-inspired look with gemstones and sharp eyeliner. However, for those who are still interested in the brand, Day has assured us that we can use these products for everyday use as well hence the name Half Magic.