Madness in the Making: NCAA Tournaments Begin
It's that time of year when basketball fans all across the country are sent into a frenzy.
March Madness, also known as the National Collegiate Athletic Association (NCAA) Men's and Women's Basketball Tournaments, occurs each year during the spring when 68 teams compete for the national championship title for college basketball in a single-elimination style tournament over several weeks.
Basketball enthusiasts everywhere have started betting over the games and discussing the teams that they have chosen to win each round, known as their "brackets."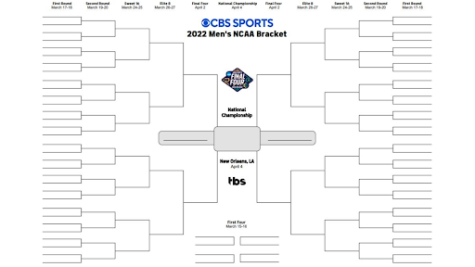 This year's March Madness tournament is up and running after a sudden halt due to the COVID-19 pandemic. With the goal to limit the spread of COVID, the NCAA has enforced rules for players, coaches and staff.
Some of these limits state that all travelers must have a negative COVID test or meet the requirements for exemption from testing. In order to be exempt from testing, participants must be fully vaccinated or have documentation of a COVID-19 infection in the past 90 days. To be considered fully vaccinated, you must have received the primary series injections along with the booster.
All athletes should refrain from outside activities, especially if they aren't going to wear a mask. Although the guidelines highly encourage indoor mask wearing, players are able to choose. 
Despite COVID-19, this year's tournament is going to be a good one. The first four games will be held in Dayton, Ohio between March 15-16. The Final Four will be held in New Orleans, LA on April 2 along with the Championship on April 4.
Gonzaga is this year's overall No. 1 seed while Arizona, Kansas, and Baylor are the No. 1 seeds for their division. According to CBS Sports , "only three times has a No. 1 overall seed won the NCAA tournament since the selection committee began ranking the No. 1's in 2004."
Predictions
The best first-round game seems to be Arkansas (4) vs. Vermont (13). This game is going to be a thriller, with Arkansas's fast and aggressive defense led by their starting guard, J.D. Notae. Notae was named AP All American third team and led the team with 21 double figures last season. However, Vermont is the No. 1 team in defensive rebounding and has the third best shooting offense. Their leader, Ryan Davis was named America East Player of the East two times and leads the team with 18.5 points and 6.3 rebounds per game. 
The top potential matchup viewers can't wait to see is Gonzaga (1) vs. Duke (2). These t
wo teams have had a long history against each other including the most recent matchup in November. The Duke Devils went home went with the victory over the Bulldogs 84-81. Although a rematch would be a fan favorite, there's enough danger in this year's tournament to disrupt this possibility.
Despite the seed rankings, there are many possible outcomes of this year's tournament. There could be a No. 1 or a No. 16 seed winning the whole thing, it is all based on how a team plays each game not necessarily the entire season. So, who do you think will win? Fill out your bracket now on NCAA.com  or ESPN and comment your top choice below