Now You Know: Week of 03.14.22 to 03.20.22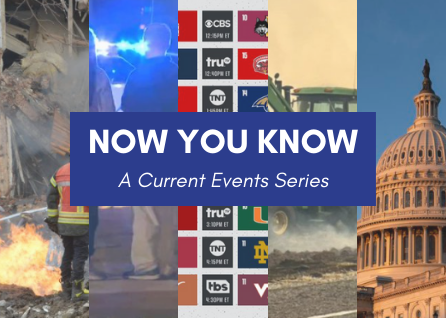 1) Russia-Ukraine Cont. 
Tensions are beginning to rise further among the two nations as Russia asks for more and Ukraine holds their ground. On Wednesday, the UN ordered Russia to stop its military operations immediately. 
This did not however stop Russia from killing American Journalist Brent Renaud. Renaud was killed when Russian troops opened fire near Kyiv, the Ukrainian capital. Graphic photos posted by the head of Kyiv's regional police force included clips on Facebook showing his passport and New York Times media credentials. A Go Fund Me page has been set up by his friends and family for a Brett Renaud Journalism Foundation. 
Russian forces also attacked a maternity hospital which broke a ceasefire in the area. 
Putin has also been threatening cities with further military force. However, Russia has yet to capture any Ukrainian city meaning that Ukraine's resistive approach is working. 
2) Arkansas Car Show Shooting
One dead and multiple injured in Dumas, Arkansas during a car show on March 19. The deceased was Cameron Shaffer, 23. He is believed to have not had any involvement in the shooting. 
Among the 24 wounded are six children under the age of 18. The hospital said that most of these injuries were not life threatening and that they should be fine. 
The shooting is not believed to be intended as a mass shooting and was a result of an incident involving two people at the show. The Dumas Police Department is still searching for two additional suspects in the case. 
The small farming town was shocked by the occurrence at the 16th annual Hood-Nic car show. Hood-Nic was the sponsoring program that used the show to help in education efforts. 
The injuries in the hospital are said to be minor for the most part and the town is already beginning in their effort to make sure nothing like this happens again there. 
3) March Madness
On March 18., the 2022 NCAA Division 1 Men's Basketball Tournament began. 
With 68 teams playing over seven rounds to determine the "final four", many frequent basketball watchers found themselves in panic making a bracket with their predictions. The first tournament in 1939 has been bringing this sense of friendly competition to the month of March for decades. 
The games will already be in round three by March 21., leaving only 16 of the 68 original teams. Many have put their bets on Gonzaga, the number one standing team, taking the win but this remains a conflicting debate. You can find updated scores and live games here. 
4) Texas Wildfires
A string of wildfires spread across central Texas on Thursday night. The fires are said to be a result of the windy conditions and low humidity in the area. Nearly 50,000 acres of land are said to be covered in flames and firefighters are still trying to put out the original fire. Over 50 homes have been ruined by the fires and there has been at least one reported death. 
The one death was a sheriff's deputy who was trying to aid in helping people evacuate the area. Her name was Barbara Fenley, 51, and she had been working in the department since 2013. Left behind are her husband and three children. 
The fires continue to spread as weather conditions get worse around the area. Numerous civilians are left without a home or food and water. Many in unaffected areas are beginning to help those that need it. Gov. Greg Abbott has declared a disaster which is yet to be under control. 
5) House Passes CROWN Act
A bill, proposed by Congresswoman Bonnie Watson Coleman, was passed by the House of Representatives on Friday regarding race-based hair discrimination. The act bans this discrimination in the workplace, federal programs, and public accommodations. 
The title, "CROWN" Act, stands for Creating a Respectful and Open World for Natural Hair. After years of pushing for Congressional action on this issue, the act gained traction and is currently being sent to the Senate. 
Nearly 12 years beforehand a similar case was brought up to the Equal Employment Opportunity Commission. A lawsuit was filed but ultimately failed.
The bill doesn't apply to schools but, If this bill passes in the Senate, discrimation based bills will be given an opportunity to gain traction and stick with Congress. With time, this ban on discrimination will move into schools across the nation. 
Read all the sources used in this article!