Behind the Scenes: 'Mamma Mia' Cast Talks on the Production of the Musical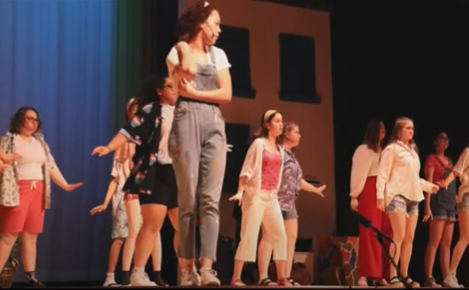 At 3:45-6:45 p.m. for a series of weeks, a mass of students practiced in the auditorium to prepare for what would be one of the highlights of the spring season.  On March 31, April 1, and April 2, the Patriot Theater Production performed the musical Mamma Mia!. While students love to see the show, they rarely come to think of what it really takes to create a production as large as this one. There is a lot of hard work and sweat that goes into the making of these plays.
The smash hit rom com musical is about a woman named Donna who is preparing her daughter Sophie's wedding. What she doesn't know, however, is Sophie's plan to secretly invite three men from her mother's past in hopes of meeting her father and asking him to walk her down the aisle on her special day. 
 Two of the lead roles, Danielle Bailey ('22) and Olivia Kremer ('22), work with the director and drama teacher Mr. Shetler to make the production shine as much as possible. While the play isn't the carbon copy of the original Mamma Mia! production, the cast says that their version is similar to it. 
"I have never seen the broadway version, but ours feels similar to the movie with a few extra songs," Kremer said.
The cast members put in time and effort to make this play as good as it can be, even if it means staying after school for hours to rehearse. The directors play a huge role in this by creating a positive atmosphere for students to work in.
"Mr. Shetler has done a wonderful job with helping me be the best Donna I can be by learning the right mannerisms and attitude," Bailey said.
Likewise, Kremer also values Mr. Shetler's ideas and the way he runs everything behind the scenes.
"Mr. Shetler has so many amazing ideas, he comes up with little things that make interactions seem so natural," Kremer said. "He also makes us look into the motivations behind our characters' actions, and that has made me feel like a better performer."
Not only is it a daunting task to correctly portray and fill in the shoes of the character's role that they've been given, it's also intimidating to play that character's role perfectly when legends themselves have done it before. 
"I do feel intimidated by my role especially because the original actress for Donna is the Meryl Streep," Bailey said. "I usually try to have fun to try to distract me from my nerves and I try to feel confident about what I am doing."
Kremer and Bailey express their love for the musical and their enthusiasm about their roles. Although they've watched the play many times with her family, Mamma Mia! holds a special place in their hearts. 
"I've watched Mamma Mia so, so many times and this movie means a lot to me and my family," Bailey said. "I love ABBA and their music and playing Donna in this show just makes the experience even better."
The musical, through songs and dance numbers, portrays the meaning of friendship and romance in the liveliest way. The energetic chaos in Mamma Mia! brings entertainment while also creating a hold on the fans of the musical.
"Mamma Mia is a show that my whole family loves, and I've watched it with my mom countless times. She was so excited when she heard we were doing it for the spring show this year! It also has so many songs that my friends and I listen to, so I think it is one of the most fun musicals," Kremer said. "I love it so much, even all the little cheesy jokes. No matter how many times I hear it, it is still entertaining."
The musical includes many dance numbers, performed to the songs of the pop music group ABBA. Along with dance numbers, there are also ballads performed in the play which are stories told in the form of a song. In Mamma Mia!, there is a performance of the ballad "Lay All Your Love On Me" by ABBA, which is the song that introduces the audience to Skye and Sophie and their romance. All of these details written into the play made it so that the original Mamma Mia! film has a 6.5/10 rating, according to IMDb. 
Pacing around backstage, script in hand, reading over their lines while the crew gets the lighting and music ready, going on stage and trying to imitate the choreography perfectly, this cast is sure that all of their constant hard work and determination going into the making of their version of Mamma Mia! will be as successful as possible.