Netflix's Cheer Defies the Odds, Gender Roles, and Expands on the Physical and Mental Tolls of Cheer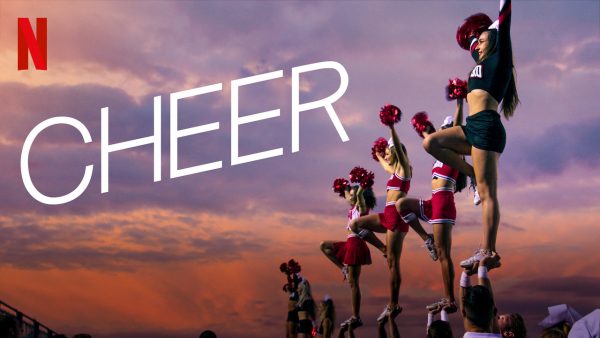 The Netflix show "Cheer" shares how athletes react to stress while balancing school, the experience of getting on the mat, competing in Orlando, and dealing with day-to-day stresses.  
The Mental and Physical Tolls of Cheerleading 
More than 30,000 cheerleaders suffer from serious injuries which cause them to have issues later in life. The amount of pressure to be and look perfect puts a strain on them causing them to be 33.1% more likely to have an eating disorder. They are also increasingly likely to have anxiety with no control over it.  
Navarro College cheer coach, Monica Aldama, makes sure that her athletes are always on top of their academics alongside their other cheer responsibilities. With all of these outside commitments, the athletes put pressure on themselves to be "perfect" because they want to be the best. The show presents the raw athleticism of cheerleading. The strain these athletes put their bodies through and the high-flying stunts they routinely land. It presents a greater appreciation and respect for what these athletes endure beyond waving their pom-poms on the sidelines. 
Ebony Hunter, an assistant coach of the Patriot High School sideline cheer team, has noticed signs of her athletes getting overwhelmed and pressuring themselves too much. Many athletes try so hard to be the best that they get hurt in the process because they think they are not good enough. 
"I have noticed more anxiety and self-doubt with athletes at all levels (middle-high school- comp-all-star)," Hunter said. "Talented athletes who have talked themselves into believing they can't do it. The best way to calm them down–humor is always my go to–but just a simple talk reminding the athlete of who they are, what they can do, and that you believe in them equals best medicine. However, if I truly believe an athlete is pushing themselves too much, then the best thing to do is to have them step away and come back with a clear head- safety first." 
Gender Barriers in Cheer 
Stereotypes and misconceptions surrounding cheer trace back to November 2, 1898, when cheerleading was first created. Cheerleading began at a time when most universities only admitted men. When universities started becoming co-ed, women began joining cheerleading teams, but there was pushback. Cheerleading was still seen by some as "too masculine" for women. During World War II, as men were pulled away from college and into military service, women in college began to take over cheerleading, and the nature of the sport began to change. Spectators started emphasizing cheerleaders' physical attractiveness more than their athleticism. An overview of scholastic cheerleading in 1955 noted, "Boys can usually find their place in the athletic program, and cheerleading is likely to remain a solely feminine occupation."  
Hunter believes that Netflix's Cheer has helped in breaking the gender barriers surrounding cheerleading. Today, so many males think that they cannot be cheerleaders because they would be perceived as "less masculine" and "weak." This is unfortunate, as many teams want males on their team because they can be strong bases and strong tumblers. 
"Two reasons," Hunter said. "It is a highly female and lack of exposure. If you ask the public what is cheerleading to them, they will answer Dallas Cheerleaders or any NFL cheerleading team. Unfortunately, these groups are all female with the focus on looking great in the uniform, dancing, and smiling. No tumbling or stunting. The sport has grown with more exposure thanks to high school competition teams and TV shows like Cheer. More families (especially dads and males) are realizing cheerleading isn't just standing around shaking pom-poms." 
Accuracy of the Show and Entertainment Value 
Hunter says that the show is accurate, but it also has "fake drama" for entertainment value. 
 "Yes, it shows the talent, the injuries, the passion, everything that goes into being an athlete when it comes to cheerleading," Hunter said. "Of course, it's reality tv! Drama equals clicks which equals money." Overall, I think that the show "Cheer" accurately displays the everyday ins and outs of cheerleading." 
Ultimately, Netflix's original docuseries "Cheer" season two has much to appreciate: the hard-working athletes, the stories, and the great reminder of what the sport of cheerleading really involves.