Independent Artists Break the Norms with Music
Students yell lyrics, bodies pack the boys' bathroom, and a laptop propped on the bathroom shelf pulsates beats as Tate Hyde ('23) and Henry Ausby ('24) take centerstage. Over the past few years, a new generation of homegrown hip-hop artists have risen onto the scene. With the abundant variety of music genres, teen artists have been taking pop culture by storm today.
Tate Hyde
Tate Hyde, otherwise known as Taye, is releasing a new EP after Revelations.
Hyde shares his experiences and advances within his music career. Music is a path he chose a year and a half ago, but music has always been the outlet through which his words transcend beyond verbalization.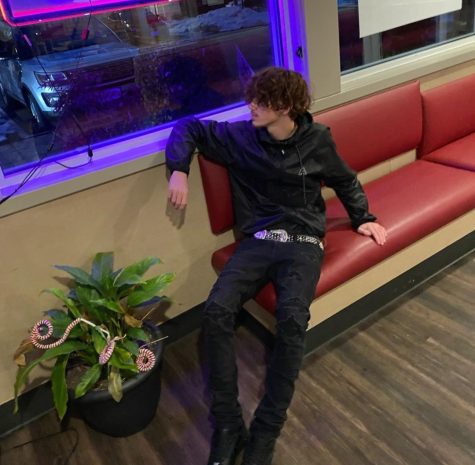 "I just got into it cause I was listening to this different type of music and there was this style that I really liked," Hyde said. "Just the thought of it [making music] made me want to do it myself. I wanted to do more than what everyone else does."
Encouragement from friends who also produce music motivates him to continue rapping and make the most of his experiences. He takes inspiration from other music artists he has made close bonds and friendships with.
"I mainly find inspiration from Ozbee and Summrs," Hyde said. "With Ozbee, he was more into this before I was, then I met him and we just started working."
Hyde has gone through many methods of processing music to reach his current point. He's gone from using his mom's Xbox mic to using more professional equipment for his music production. Starting off with learning how to produce beats with his friends, he has now retained a steady following on SoundCloud, YouTube and Instagram. Hyde's also working on releasing new works in the making.
"I might be dropping an EP soon with like five songs on it," Hyde said. " I release my music on Soundcloud right now but I do have a few songs out on Spotify and Apple music, although I am working on releasing my music on all platforms. I think I've improved way more from what I was making before. When I first started, I was using an xbox mic on my mom's computer and that was it but now, I bought more professional-like equipment where I can actually make decent stuff with it. "
While Hyde has released many songs, his most popular remains to be the 'T.A.Y.E.' song better known as, Revelations.
"There are some songs that I feel have already been played out or overplayed rather, like the 'T.A.Y.E' song [Revelations]," Hyde said. "Everyday I hear that song getting played about 30 times by random people. I'm so sick of it now,  but the rest of them I like. I feel that 'Revelations' has most definitely made an impact and it blew up and got the most recognition."
One of the difficulties associated with music production is the constant outpour of criticism after releasing a song. However, Taye uses it constructively.
"I have gotten some criticism and I take it into consideration," Hyde said.
With all the recognition Taye and his music is getting, he's now developed a great following and has a somewhat fan base mainly inside of school.
"I feel that I do have a lot of people here who support my music and what I'm doing," Hyde said.
Hyde appeals to listeners who attend his shows, stream his songs and buy his merchandise when available.
"The most surreal experience for me was probably the second concert we did. They [the students] were yelling out the lyrics because they knew the words to the 'T.A.Y.E' song," Hyde said. "That was crazy. It gave me goosebumps."
Hyde is known for holding elaborate concerts at Patriot. His first concert in the boys' bathroom wasn't organized intentionally. Hyde planned to only take a few photos. However, this brief photo shoot unexpectedly turned into a concert.
"Now the concerts all started when we brought the 'studio' to school one day," Hyde said. "We were planning on just taking pictures, which we did, and they ended up getting a whole lot of attention. So the next day we just did a concert. That one went crazy."
For his second concert, Hyde was more prepared. Students gathered in the courtyard of commons 2 to listen to Hyde and his friend Ozbee perform. T-shirts were thrown to listeners and phones were recording the live performance.
"After that, when we did the outdoor show, we actually put in the work for an actual setup and the show itself," Hyde said. "In my opinion, that concert was even better than the last one."
Nyla Fields
Nyla Fields [nyla!] most popular track is deric – treat you the best ft. nyla! [REMIX].
Nyla Fields, a sophomore ('24) attending Gainesville High School as well as another underground rapper/music artist, went into depth about her experiences and advances within her music career.  Her journey started when she was younger as she was surrounded by many outlets of music.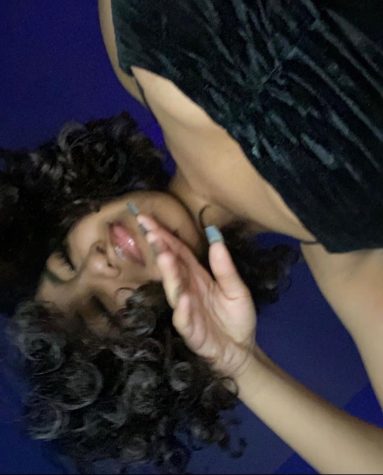 "I've always been passionate about music since I was a little girl growing up, at a young age I was introduced to rhythm and songwriting by being surrounded by so many family members who would sing or make music," Fields said.
Fields' took the environment she grew up in as an opportunity to grow and to embrace her talents to further her journey as an artist, as well as gain motivation from an old companion who is already in the industry.
"I have always written songs and made music, though the push to start recording my songs was definitely from an old friend who is now further up in the music industry (yvngchris)."
Fields' got into music production in a different way than most, as it all started with a diss track and encouragement from a close friend.
"I made a diss track with my two other friends on someone and after it was released on SoundCloud, I was asked to start recording music," Fields said. "Chris [her old friend who is a popular music artist] was majorly the person to definitely tell me I had so much potential and raw talent to start recording music and releasing my songs. After that, it's history."
 My Experience
For me, making music is such a wonderful outlet. I feel so free and I'm able to express how I feel in full entirety. Writing lyrics is also a fun way for me to say what I'm feeling without physically saying it, but I think my favorite way to get myself in a better headspace is making beats.
Two years ago, I finally started releasing these beats on my YouTube channel and it's been an amazing outlet for me ever since. I also just mess around on SoundCloud as well.