Welcome Back Pioneers!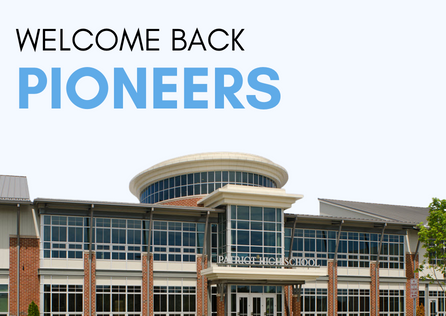 The 2022-23 school year has officially begun! In the last week, we have welcomed hundreds of unfamiliar faces and many more old ones back into the building, and this year we can see them! A stark difference from last year, most students have forgone the masks, and it feels like a big step in the slow journey back to "normal."  
Returning to that "normal" has been a goal of Dr. Michael Bishop, the principal of Patriot High School.  
"I feel like it's been a good start so far," Dr. Bishop said.  
He sympathizes with the last two unconventional years we have faced, and the priority of this year is to shift back into a more structured environment where students thrive. The administration is taking steps to do that every day.  
He said, "we spent a lot of time getting feedback from you guys…  I got feedback from the teachers; I got feedback from the department chairs and the administrators." It is the reflection on last year that is going to be key in making this year better.  
Dr. Bishop describes that the three common issues found were phones, structure in a classroom, and access to technology in a meaningful way and that's where students should be looking for the most change.  
Teachers and administrators have made the phone policy, which is new to Sophomores and Juniors, noticeably clear. Students are not allowed to have their phones out during the school day unless at lunch or if instructed by teachers.  
"When we did that cell phone social media awareness week… I was trying to get them to understand there are dangers there to when you are constantly distracted," he said "There is a time to use it and a time to not use it. I am good with lunchtime… but in the class, I want [students] focused on the teachers…"  
"Especially the [teachers] using the door thing," referring to the hanging phone caddy some teachers use, "they're all 'my kids are focused, they're on target,'" he added.  
Dr. Bishop also explained what he hopes structure in the classroom will be like. You may have noticed your teachers asking "Why?" rather than "What?" and "How?" "If you know why it makes a lot more sense," he said. 
In the end, the hope for Dr. Bishop and the rest of the administration is that students will return to an environment where they can learn, socialize, and be happy. "I want them to have optimism, I want them to think there's some kind of normal coming back," he said   
As we kick off this year, look around for club interest meetings, student programs, and upcoming events. You will be sure to find something you enjoy and get involved with the community