How Women are Changing the Mahsa Amini Protests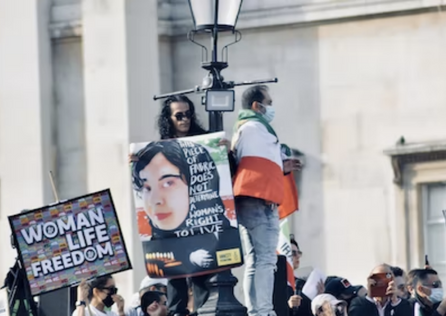 A 22-year-old Iranian woman took a trip to the country's capital in early September of this year. She was there with her brother for a visit. From the small Kurdish city of Saqqez, the young woman was unknown to the world before this trip. On Sept. 13, Mahsa Amini, also known as Jina, was detained by the Iranian Morality Police outside a metro station in Tehran for wearing her headscarf too loosely. She died three days later in police custody.  
Before the Islamic Revolution, women in Iran were allowed most freedoms as women in the western world. A head covering, loose, modest clothing, and permission from a male family member to join the labor force was not compulsory for women. Two years after the revolution, however, these freedoms were rescinded, and the hijab became a requirement punishable by law if not followed. These laws are still in effect today, and while it's widely known that observing the hijab in Iran is compulsory, enforcement of it has always been selective.  
Even so, Amini's mother said in an interview the day she was detained, Amini left the house properly observing the law and also wearing a loose, long robe. The officials, however, claimed that Amini was not in accordance with the law and arrested her. Witnesses, including her brother, have claimed that Amini was beaten while being transported to a detention center. Her brother said he heard screaming from the outside of the detention center where he was waiting for Amini. She fell into a coma after the arrest.  It's known that the Morality Police's tactics range from verbal warnings to violently dragging women into vans for detention. 
Amini died on Sept. 16 in a hospital in Tehran after falling into a coma. Iranian officials have consistently denied beating Amini, and both the police and coroners from the Iranian Legal Medical Organization, which claims to be independent but is a branch of the national judicial system, said she died from a pre-existing heart condition and that there were no blows to her body. Amini's family have confirmed she's never had any heart issues, and her father told the British Broadcasting Corporation he saw bruises on Amini's feet during her burial. 
After her death was declared, the world erupted in protests. In Tehran, heavy security was deployed to control the mass outside the hospital where Amini took her last breaths. Videos circulating online show police beating others with batons and firing their guns into the sky to control the crowds.  
Amini's family has shared a glimpse of their grief with the world, her mother stating, "I am her mother and I am dying from grief," in an interview with an Iranian news outlet, even after being ordered to not speak out by security forces. Her father also shared with the BBC that he had asked for officials "to show me the body-cameras of the security officers, they told me the cameras were out of battery." Amini's father was also not allowed to see his daughter until her burial.  
From small villages to the steps of Tehran University, the protests continue, and as women abandon and set fire to their headscarves, they only grow stronger. While Mahsa Amini is their immediate cause, their dissent comes from decades of discrimination. Iran has not seen such severe protests since the 2009 election where 80 people were killed. 
Those women, who are setting fire to their hijabs and screaming for justice, are making these protests different from any other Iranian protests. A history teacher at Patriot High School, Thomas Demharter explained that while there have been smaller-scale protests against the strict hijab laws in Iran in the past, the fear that religious leaders especially invoked as a way of control and the cultural values that show that women do play a secondary role in Iran has prevented those protests from growing.  
He said, "It's hard to overcome those things, a strong dictator using religion as a tool to continue to hold women to repressive systems, and culture."  
After Amini however, those things have not stopped women from gathering and keeping these large-scale protests from thriving. People are not only condemning the treatment of Amini and other women by the police but are also calling for a complete end to detaining women for not observing the hijab. And even after several weeks of violence from security to subdue protests, people are still fighting. They've been shouting, "Women, life, freedom" and in many places, "Death to the dictator," referring to Ali Khamenei, the country's supreme leader, who is in favor of stricter hijab laws.  
The protests have also been carried out by students, especially young women. School-age girls and teenagers have persistently been out on the streets fighting for Amini and their own rights. Several posts online picture them flipping off photos of leaders who supported strict hijab laws and outing without a hijab. While protests on the streets have ebbed and flowed at times, protests at universities have been tireless and strong even amid security raids on campus.  
As we're nearing the end of November, news of the protests has slowed down in circulating in U.S. media outlets. Several celebrities and officials around the world have publicly condemned Iran's actions, and while that initially brought much attention to the movement, notice from first world countries now has waned.  
Earlier this month, there were several calls from countries including the U.S., Canada, and New Zealand to oust Iran from the United Nations panel on women, citing "systematic oppression" of women, and it's violent responses to the protesting as "an ugly stain on the commission's credibility." Since then however, not much news has come out on the U.N.'s progress, and the European Union has only made a few additional sanctions, not likely to make much difference.  
When asked what effect ousting Iran from the commission will actually have on women, Demharter said, "It's not really going to have a huge effect. Again, I think in the big picture, in the big scheme of things, we have to normalize relations with Iran. We cannot continue to isolate them and insulate them from the rest of the world. If we can somehow find a compromise…"  
He explains that in order for us to truly have a positive effect of women's rights in Iran, a compromise would have to take place. Something we can give to Iran and have them ensure women's rights in return.  
Demharter continued on how first world countries could possibly help women from the outside. He said, "It's hard when there's so many sanctions already in place against Iran for other reasons, there's not much left to do other than military operations."  
Still, protesting by Iranian's has been unwavering. They've continued both in the country and out. Fans of the Iranian World Cup team have taken to protesting ahead of Iran's game against England.  
As families grieve the unexpected death of the young woman who was visiting Tehran, protests continue all through the country. The most recent data from the Iran Human Rights group showed "at least 378 people including 47 children and 27 women have been killed by security forces in the ongoing nationwide protests" as of Nov. 19. The first death sentence linked to the protests was also issued just days ago.  
The world continues to watch Iran's response to these protests, and the effects they may have on the women's rights that have been oppressed for the last four decades. Through all this, hundreds of thousands of people all over the world pay respect to Mahsa Amini, her family, and the thousands of other women who have unrightfully died with similar stories.  
Leave a Comment
Your donation will support the student journalists of Patriot High School. Your contribution will allow us to purchase equipment and cover our annual website hosting costs.