School Shootings: Has it Become the New Normal?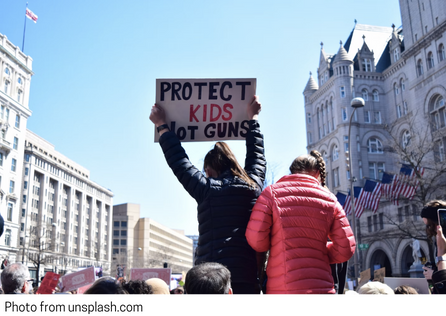 Three students on the football team at the University of Virginia were killed by gunfire on a class field trip, announced by officials on the morning of Nov. 14. The class was on their way back from a play in Washington D.C. when Christopher Jones open fired and killed three students, Devin Chandler, Lavel Davis Jr., and D'Sean Perry, and injured an additional two.  
The UVA shooting marked the 599th mass shooting of 2022, with 258 of them taking place on school grounds. 
School Recourse Officer at Patriot High School, Sarah Khalid, said, "I think as a society, [gun violence] isn't talked about much until something horrible happens." 
The Columbine High School shooting in 1999 as well as the Sandy Hook Elementary School shooting in 2012, marked the beginning of the trend in gun violence taking place at schools.  
"In the United States, just looking at the past ten years, five years, [gun violence is] quite prevalent. So Sandy Hook occurred, and we never thought there would be another shooting at an elementary school. Then Uvalde happened and before that it was Parkland and before that it was Michigan," says Officer Khalid. 
Since the infamous 1999 Columbine High School shooting, more than 323,000 students and educators have experienced some sort of gun violence at school. Even though school shootings only make up a small portion of the American epidemic that is gun violence, the entire culture of in-school education has been changed. While death tolls from gun violence continue to be tied to different schools around the nation, students and educators continue to be in fear that they too, may be another number.  
"We have all these safety mitigations in this school. Locked doors to bathroom checks to threat assessments, risk assessments, everything is in place. But we can't predict the future. We can only work with the information that we have been presented. It only takes one person," says Officer Khalid. "[Gun violence is] becoming a new norm which students have to live with and I don't think that we should need to." 
What Makes a School Shooter? 
Understanding why someone might be compelled to commit acts of violence is key to finding ways to prevent further incidents like school shootings. Although there are many factors that contribute to why one might feel the need to commit violence, one of the largest risk factors includes mental health issues that are not properly addressed.  
"I'm not a psychologist but I think it's hatred. They're hateful towards their school, towards their peers, and in their mind, they have manifested this ideation that this act will resolve my issues," says Officer Khalid. 
Issues may include mental health challenges such as depression and anxiety, as well as bullying, harassment, abuse, stress, and more. These issues may cause people to feel like outcasts or frustrated by their situations with no way out, causing them to turn to violence – like the Uvalde shooter who had been bullied for years for a speech impediment.  
Shadowing issues in addition to the relatively easy access to guns leads to the increased risk in the development of a possible school shooter – but there are ways to prevent this.  
How Can We Make a Change? 
At least one person knew of a potential shooting, butshooting but failed to report it in four out of five school shootings. Knowing the warning signs of someone who may be struggling is important in preventing acts of violence. Some of the warning signs may be suddenly withdrawing from friends and family, bullying, excessive irritability, making direct threats to a people or places, bragging about access to a firearm, and cruelty to animals.  
"We can put in more officers inside the school, but I don't think that that's the right answer. It is [an] answer, I think that's one approach, but do we want to fortify our schools and have more police officers?" says Officer Khalid. "I don't want [students] walking in the school feeling fearful."". 
While efforts to add in more risk assessments and mitigation measures in schools may help, there are other ways to make a difference outside of school. Organizations such as the Sandy Hook Promise and Rachel's Challenge both work to raise awareness on the signs of potential violence and how to address those issues. Made up of supporters, volunteers, activists, and survivors of those lost to school shootings, the Sandy Hook Promise and Rachel's Challenge provide opportunities to donate financially, to promote gun reform, and volunteer opportunities to advocate and fundraise for the cause. Both organizations emphasize the importance of community, noticing the signs of need and struggle, and kindness, in an effort to make a difference and protect people from the American epidemic that is gun violence.  
Leave a Comment
Your donation will support the student journalists of Patriot High School. Your contribution will allow us to purchase equipment and cover our annual website hosting costs.