Why Have So Many Americans Lost Trust in the Media?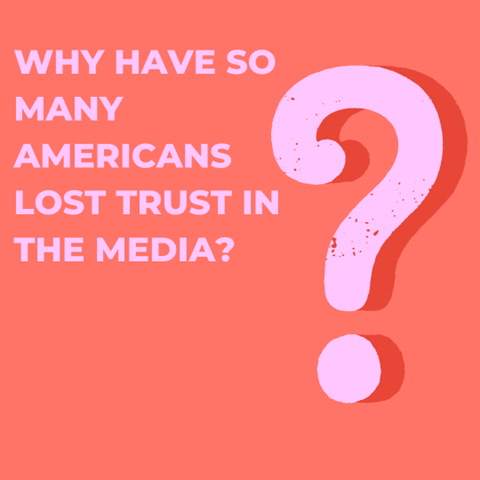 Media plays a huge role in impacting our lives. Through the form of newspapers, websites, magazines, and more, the media successfully influences our views, attitudes, and behaviors. Despite being designed to inform, American's trust in media has plummeted. Simultaneously, concern regarding the media's role in influencing Americans has risen sharply.
According to a study conducted by Gallup, only 7% of Americans have "a great deal" of trust and confidence in the media, while 27% have "a fair amount." Why has the public lost trust in the media's ability to produce accurate, thoughtful reporting of the news?
The 24-Hour News Cycle
Since the late 20th century, cable news programs have operated on 24-hour cycles. This model of reporting the news forces media organizations to recycle old stories, much to the dismay of viewers.
According to The Daily Beacon, University of Tennessee Professor Dr. Michael Martinez states that with this model, media organizations pay closer attention to what viewers are clicking on, and how much time they spend on an article.
Martinez continues to say that this focus on viewership patterns results in a "loop of stories and articles," creating an appearance of less objectivity.
The Media, Partisan Divide, and the President
Rising distrust in media can also be attributed to the increase in partisan divide. According to a study conducted by Gallup, 70% of Democrats, 14% of Republicans, and 27% of independents trust the media. According to Pew Research Center, Republicans are "far more likely than Democrats to think that mistakes in news reports happen because of an intention to mislead audiences."
This divide in trust can partially be attributed to former Republican President Donald Trump, who constantly marginalized and battled the media during his presidency.
During his war against the media, President Trump's administration infamously barred CNN reporter Jim Acosta from the White House. Trump described Acosta as a "rude, terrible person."
Former President Trump's attacks against the media helped push consumers to trust media that reflected their own ideological views, simultaneously distrusting other outlets. Trump branded the media as fake, and agenda driven, and his supporters listened.
According to Hussmann School of Journalism and Media, Nancy Gibbs, director of the Shorenstein Center at Harvard University, stated, "We all recognize that we're facing a crisis in our information environment, which in turn is an emergency for our democracy."
Rebuilding trust in the media will be a challenge for journalists and media organizations. In order to combat anti-media rhetoric and help restore trust in the media, news organizations and journalists must prioritize reporting, separate fact from fiction, and emphasize transparency.
Leave a Comment
Your donation will support the student journalists of Patriot High School. Your contribution will allow us to purchase equipment and cover our annual website hosting costs.