Inside the School-to-Prison Pipeline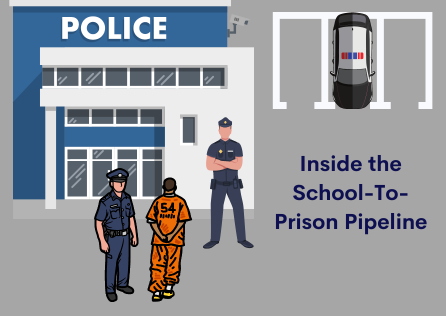 From the 1980s to the early 2010s, incarceration in the U.S. skyrocketed; according to the Federal Bureau of Prisons BOP, almost nine times as many people were incarcerated in their facilities in 2010 as in 1980. On an even larger scale, the total amount of incarcerated persons in the country jumped from approximately 1,000,000 to 7,000,000 by 2007. During the 2000s, amid the largest increases, a number of movements formed and began to protest the so-called "School-to-Prison Pipeline," a system that allegedly causes troubled students to end up in prison through repeated suspensions and harsh punishments for lesser offenses.
Among the most affected by the pipeline are students of color, with African American and Latino students being more likely than white students to receive harsh punishments, such as suspensions and expulsions, for similar infractions. These disparities persist on the criminal level as well; black people, particularly black men, account for around 40% of the incarcerated population in the United States, and Hispanics make up 23%, despite both groups being 14% and 16% of the country's population, respectively.
Many view the correlation between harsh punishments and incarceration to be a clear indicator that school policies are the root causes of future criminal activity. However, it is imperative to look at the entire picture and take note of other factors that increase the risk of criminal activity such as home environments and mental health issues to create effective solutions for the long-term.
Despite that, thorough analysis of zero-tolerance policies in schools and how they are employed can provide helpful insight as to why there use correlates with future imprisonment among students.
Zero-tolerance policies were first implemented in the 1990s to make schools safer by targeting violent behavior and drugs and were utilized by at least 75% of schools as of 2019. While the policies were implemented to protect students and staff, it is unclear whether they have benefited schools, and their seemingly negative impact on students of color has convinced some that these policies should be abolished.
Suspensions and expulsions are the protocol for violent or disruptive behavior, which may appear to make classrooms safer; however, the students behind these infractions, especially black and brown students, often come from unstable home situations, such as poverty or abuse. Out of school suspensions in particular hurt student's ability to learn by pushing them back into tumultuous home environments lacking in structure and guidance. As a result, student behavior is not adequately addressed, leaving them prone to repeat offenses.
Additionally, application of these policies is inconsistent, with some students receiving suspensions more frequently than others for relatively minor offenses, sometimes repeatedly. Studies show that students who receive suspensions are more likely to drop out of high school, which puts them more at risk for criminal activity. The feelings of animosity bred from harsh punitive measures damage the bonds between educators and students, which has shown to result in worse behavioral and academic outcomes for students.
While students generally dislike zero-tolerance policies and parents have mixed emotions about them, it is important to note that policing in schools does make some feel safer. A Chalkbeat analysis of school surveys observed that students in New York generally feel safer with police in schools, even those with a majority black students. In schools with lower black populations, police presence made 83% of students feel safer, but the percentage drops to 76% in primarily black schools.
A separate study found that in a 2017-2018 survey of eight diverse, low-income California schools, black and Latino students had the most negative perceptions of police in schools, with 43% black students stating that police presence didn't make them feel safe at all and 20% of Latino students, compared to 10% of white students and 11% of Asian students.
Interestingly, there is evidence that police have negative perceptions of black students as well. In a recent survey of 73 School Resource Officers (SRO) from two different school districts, officers in predominantly black schools felt more threatened by their students than those in predominantly white schools, who were more concerned about protecting their students from outside threats, like potential intruders.
The distrust between the police and students may be partially responsible for the unusually strict approach to disciplining students of color. Although harsh measures are sometimes necessary, they often do not address the underlying issues that may be driving students' actions, so it is important for schools to focus on methods of preventing and reducing misbehavior, such as bonding students with teachers and connecting them with counselors and other mental health resources. Especially amid the growing youth mental health crisis, early intervention is crucial to securing student futures and reducing incarceration among young people of color, as poor mental health is a major risk factor for deviant behavior.
Mentoring is one of many ways educators can connect with students. Having a trusted adult at school can be life-altering for students living in unhealthy home environments and has shown to improve student well-being. The sense of security helps students in various areas of life, but, even when students want to be mentored, it can be scary or difficult for them to reach out to adults by themselves. School-led mentoring programs make students feel more confident when asking for help, and professional development courses teach educators how to bond with students and bring out the best in them.
Counselors are also vital to students as well, as they prepare students for college and careers and provide support for students struggling with mental health issues, and, in extreme cases, counselors help to protect students from abuse by contacting authorities. The many roles counselors take on for students means that countrywide counselor shortages could have dire consequences and even fuel the current mental health crisis.
Although it is impossible to save every single child, efforts made in schools, where kids spend most of their days, can make a huge difference. For the past decade, school crime has been steadily declining; however, staffing shortages in schools make it difficult to give students the support they need.
Leave a Comment
Your donation will support the student journalists of Patriot High School. Your contribution will allow us to purchase equipment and cover our annual website hosting costs.