No More TikTok Dances for Mahomes!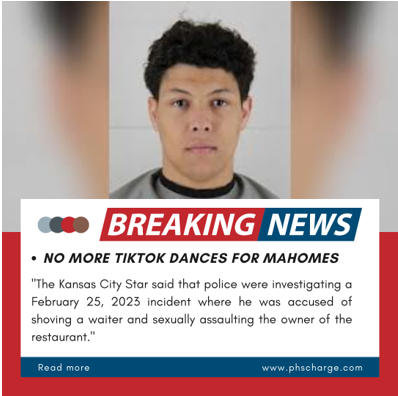 Yet again, another celebrity has been involved in a sexual assault case. In recent events,
Jackson Mahomes, brother of star QB Patrick Mahomes has been arrested for aggravated
sexual battery. A conviction for aggravated sexual battery can carry a sentence of up to 55
months.

Jackson Mahomes was charged on Tuesday after a sexual assault took place at Aspen's
Restaraunt in late February. He is currently on bail with a $100,00 bond.

The Kansas City Star said that police were investigating a February 25, 2023 incident where he
was accused of shoving a waiter and sexually assaulting the owner of the restaurant. The court
had prohibited Mahomes and his attorney from making any further comments, but in March he
released a statement saying there was, "substantial evidence refuting the claims of Jackson's
accuser."

The owner of Aspen's Restaurant, Aspen Vaughn had stated that Mahomes was a friend of her
stepdaughter's and that he frequently visited the restaurant. She claims he had been in that
before the assault and was pleasant, but then later returned to her office and grabbed Vaughn's
neck, forcibly kissed her and left bruising.

Later on, footage was released by TMZ showing Mahomes forcibly grabbing her neck, tilting her
head back and kissing her. She said, "He forcibly kissed me out of nowhere." She also claims
that he seemed to be intoxicated.

This wouldn't be the first time Mahomes has been caught up in controversy. In 2021, when he
doused a Baltimore Ravens fan with water after the Chiefs lost a heartbreak game. The fans
began talking smack to Mahomes telling him to, "go home." Mahomes grew annoyed and took a
water bottle, unscrewed the cap and dumped it all over the fan.

He later made a comment on the situation saying, "they were thirsty."
Along with that incident, in 2021, he was lit up for doing a TikTok dance stepping on a swath of
grass at FedEx Field that had been spray painted to honor Sean Taylor, who was having his
number 21 retired 14 years after his tragic death.

Mahomes soon apologized stating he meant, "absolutely no disrespect.," explaining that the
whole thing was a misunderstanding.

Throughout the years, Mahomes has accumulated a very unlikeable reputation. A preliminary
hearing was set for May 11, however no other trial dates have been made public.
Leave a Comment
Your donation will support the student journalists of Patriot High School. Your contribution will allow us to purchase equipment and cover our annual website hosting costs.