​PWCS Leads COVID-19 Vaccine Rollout for Staff and Students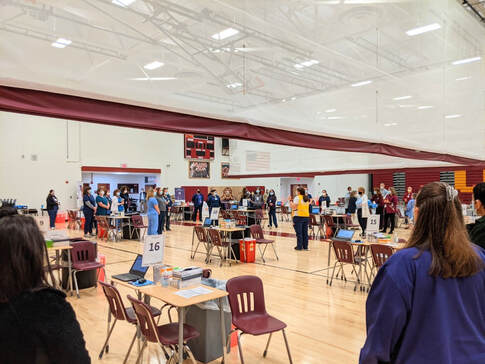 Prince William County Public Schools (PWCS) has been working hard to secure more vaccinations for its staff and students through the Prince William Health District, INOVA and Novant UVA Health System. Currently, PWCS is implementing vaccines for students 16 and older. These clinics will continue through May.
The school division began making the vaccines available to employees with Tier 1 medical conditions and staff who had been working in-person beginning on January 3. Tier 1 employees are those with documented underlying medical conditions that place them at high risk per the CDC if they were to contract COVID-19.
The PWCS Pandemic Team led by Associate Superintendent Mrs. Denise Huebner was active in making the vaccine distributions possible through hours and hours of dedicated effort.
Huebner said rolling out the vaccines in the beginning was challenging.
"When we started the clinics, the vaccine was very hard to come by. So it was really day by day, waiting for the allocation to come by," Huebner said.
Vaccine supplies were a large barrier to vaccination efforts, as the capacity to administer vaccines exceeded the supply that the county was receiving. This uncertainty raised concern among the community about whether vaccine providers had enough vaccines available to supply the community.
"We really tried to do a lot of communication at our school board meeting, to our school leaders, to reassure people that it was coming," Huebner said.
The pandemic team spent many sleepless nights, waiting for the vaccine.
"We were up one, two, three in the morning and waking back up at five in the morning emailing back more messages to staff members to make sure that they received their appointment information," Huebner said.
To organize this phase of the rollout, PWCS prioritized in-person school employees based upon the date which they returned to working within their buildings.
"We tried to do this in an equal and systemic way. To ensure that people who were in-person or adverse populations [were prioritized first.] We had to prioritize because everyone wanted the vaccine at the same time," Huebner said.
School Nurse Theresa Peoples and Autism Teacher Laura Ryba were among the first staff members to physically return to Ashland Elementary School in September.
"We've [autism teachers] been in since day one. We didn't get our first dose of [the] vaccine until January and then the second dose was sometime in February," said Ryba.  "Because we are a certain at risk group, we are working with self contained autism students, we wear N95 masks. So even though we have the vaccine, we're continuing to wear that PPE."
During the vaccination process, the nursing staff was instrumental in overseeing  the administered doses.
"We have 20 to 25 school nurses that would come in on the weekend and give their time," Huebner said. "They were a really key player. From the school division we would bring 25 to 30 nurses and NOVANT would bring staff members, some of them were nurses as well."
All the Novant and school nurses are paid an hourly rate for their time at the clinics. All participating nurses have another part time or full-time job.
"As a school nurse I have always loved the chance to teach my students and staff," Peoples said. "Working at the vaccine clinics I have had a chance to share information about COVID-19 and the COVID-19 vaccine with the adults and students we have vaccinated.
The progression of vaccine distribution is continuously improving. Currently, PWCS is implementing vaccines for students 16 and older. These clinics will continue through May.
"We actually started Saturday, April 10. It was for Special Needs. Now, we're going to continue," Ryba said. "I think the hope behind this is that if we can get everyone vaccinated, then we can get ahead of COVID-19, so it doesn't end up getting worse. I feel comfortable with it personally."
"I have truly loved working at the vaccine clinic. As a nurse I was excited to see so many people stepping up to be vaccinated," Peoples said. "Last weekend I enjoyed seeing many of my former Ashland ES students come through as juniors and seniors to be vaccinated. Once more people are vaccinated,  we will hopefully slow the spread of COVID-19."
Many staff members shared that the vaccine process was easy and they now feel safer.
Patriot High School Gifted Education Teacher Mrs. Adrienne Phillips described the vaccine process as both simple and organized.
"The people I have spoken with, like my husband who works for Prince William County Public Schools and got his vaccine at Unity Reed, say that the vaccine went very smoothly," Phillips said.
"When you go to check in, it's pretty quick. The process is pretty seamless. It's after the shot that's not always the best," Ryba said
"Naturally, everyone was concerned about getting COVID-19. Since I received my two vaccines, I feel more confident working at school and weekends at the vaccine clinics," Peoples said.
Even after the vaccine, Peoples believes that it is still important to practice safety precautions.
"We still need to practice social distancing, hand washing and wearing masks. But the vaccine gives us an extra layer of protection," Peoples said.