Student-Produced Film 'Panic' Premieres in the Patriot Auditorium
"Panic," a movie directed and produced by senior Sushmitta Debnath (AKA Sushi) premiered on Sep. 8, in the Patriot Auditorium. The event began around 2:15 pm, during which attendees gathered to watch the short film. Debnath and her film crew—Hosna Mohibi, Meredith Dada, Alex Tran, and Lucy Laing—introduced their roles in the process of creating "Panic." Ms. Sherry Gillis, the film studies teacher, discussed the process of creating the film and Debnath's immense initiative in the project. 
After Gillis's speech, the lights went off, silence encompassed the room, and the screening of the film began.
A Summary of 'Panic' (Spoiler-Free)
Debnath provided an overview of the film's plot, "The film is about a character named Elle who is getting ready to go out with her friend Reneé, but Elle begins to panic as time goes by and Reneé doesn't reply to her calls or messages."

Sushi Debnath's 'Panic'
The Process of Creating the Film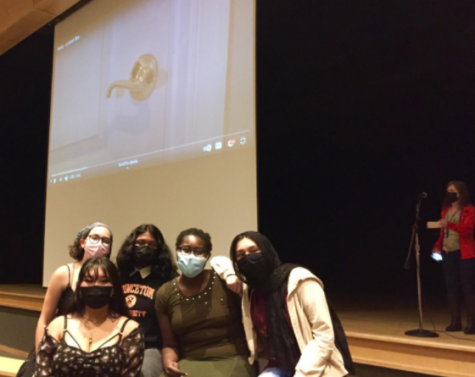 Debnath directed the film with her friends. Alex Tran, Nevaeh Bouie, and Meredith Dada worked as the actors; Lindsay Martin and Hosna Mohibi worked as the camera operators; Lucy Laing worked as an editor; and the whole film was supported by Mrs. Sherry Gillis. 
Gillis, in her speech before the film premiered, said that Debnath spent her whole summer working on the film. 
"Sushi spent her whole summer working on this project, she came up to me with a script and shooting schedule," Gillis said. "I think in a few years, we will see Sushi nominated for an Oscar."
On Mental Health & Driving Safety
I wrote this over quarantine when most people's mental health was at an all time low, so I thought it would be important to incorporate that into a film. I also had a few panic attacks during that time and I had no idea what to do or what it even was because it's never really shown in the media. Driving is scary and safety needs to be emphasized. I scratched someone's car in the school parking lot yesterday and thankfully it wasn't anything serious, but these things happen out of nowhere and can be prevented.
Memorable Reactions on the Film
I haven't gotten to see very many reactions because I usually send people the YouTube link and they tell me their thoughts afterwards. However, last week I showed the film to some of my friends and this one friend of mine had [her] jaw dropped and eyes were teary and it was so funny for me to watch their emotions change through those seven minutes.
Submitting to Film Festivals
As a high schooler, Debnath is already taking impressive steps in the world of filmmaking. This is an impressive feat for her future aspirations. Recently, she got accepted into the Virginia Emerging Filmmakers Festival. 
I submitted to four different festivals and have heard back from one of them so far and got in! It's called the Virginia Emerging Filmmakers Festival in Winchester, Virginia.
Lessons Learned from Making the Film
I know to ask for help. Doing everything by yourself is very difficult and draining. It's important to also get dedicated people to help you so that it doesn't feel as though you're bugging them.
Reviews on the Film from Patriot Students
"The short movie keeps you on the edge of your seat, waiting for what happens next, and really gets you to sympathize with the main character. Honestly, I almost started crying. The film team did an amazing job with shooting the scenes, and the actors were wonderful, showing all the emotions the characters were going through and enticing the audience with the story." -Mariam Usman (22')

"The short film was beautifully executed and I loved the message. The film truly touches you and sheds light to anxiety and mental health. I'm so proud of the entire production team for creating something so touching and authentic." -Taj Oli (22')

"Chilling – Beautifully opens our eyes to the sides of mental health and trauma society has hid from us for the last century. Definitely recommend." -Kalea Wen (22')
What Comes Next?
Well next is applying to college. I'm looking to apply for film and double major in something like economics just as a safety blanket just in case film doesn't work out. I'm also currently doing an internship with the Virginia Film Office and they're responsible for scouting locations for films and tv shows to use. 
To learn more about Debnath's film and her future plans in life, check out The Charge's student profile of her!