People of Patriot: Meaning through Roots
Patriot student Mariam Usman ('22) finds it important to remain close to her roots.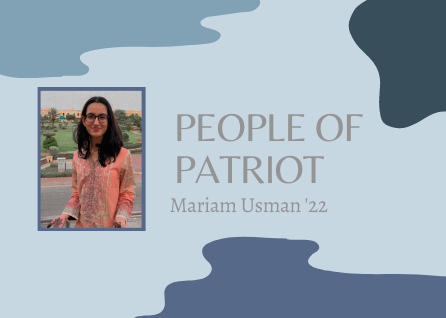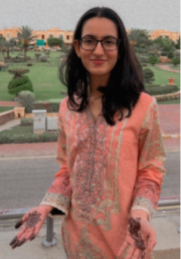 You may know Mariam Usman through her captivating photography—ranging from rustic buildings to mesmerizing landscapes. Or maybe through her prominent role as the secretary of South Asian Student Association. But do you know about her passion for mug cakes? Goats? Mariam is an amalgamation of each and every one of these interests.
As a Pakistani-Canadian, Usman tries to stay connected to her roots by keeping in touch with family overseas and trying to visit Pakistan as much as possible. Usman appreciates her visits to Pakistan, as they allow her to make connections that allow her to discover more about herself.
"I think my family and visiting Pakistan itself are my biggest two connectors," Usman said. "Since I grew up in Canada, I consider it as my home (second to Pakistan, of course) even to this day, I have a lot of memories there and a lot of fun times. My dad works and tries to make sure that we know our roots. He grew up in Pakistan and wants to expose us to this culture. Having the time to connect with family was good. I went touring. Since I'm from Lahore I got to see old Lahore and the old mosques. I got to see the city I was born in."
Usman hasn't always felt confident in her culture. 
"When I moved to America it was hard to fit in," Usman said. "I used to be insecure about my [traditional] clothes."
The resilience that Usman has built through these experiences allows her to support her friends in times of need. No matter what she is going through, she is always willing to spread her cheerful and energetic spirit with those around her. Taj Oli ('22), her friend, reflects Usman's personality traits.
"She is humble, determined, and really kind," Oli said. "She's always supportive to anyone."
Hosna Mohibi ('22)  reflects on the first time she met Mariam.
"When I first moved to high school, I didn't know anyone. Mariam is the person that isn't afraid to reach out to a stranger and make them feel included," Mohibi said. "She always carries the welcoming atmosphere and feels for others."
Usman carries these traits in her role as the SASA (South Asian Student Association) secretary.
"I organize some of the activities that members can earn points from, and pitch in to how the club is running and planning future meetings and events with the other officers," Usman said. 
After high school, Usman hopes to pursue a career in neurosurgery. 
"I find the brain really interesting. There is a personal side to this," Usman said. "I know someone who was influenced by neurological issues. I want to go into this field so I can help people going through this. I don't want anyone to experience that alone."
Usman hopes to show representation in the field as a woman and POC (person of color).
"It's going to be challenging since it's a male-dominant field, but I'm willing to break those boundaries," Usman said. "I want to represent my culture as a POC in the field. I feel like there is a lot of negative stigma in my culture [Pakistani]."
Usman also enjoys taking photos in her free time.
"I just really enjoy capturing pictures of places I've been and things I've seen, it becomes a kind of log or photo journal of cool things I've done," Usman said. "I'm usually thinking about how I can capture an image just right enough to get the picture the way I see it in person so I can look back and tie memories of that experience to that picture."
When she's not submerged in heaps of homework, she loves to relax by baking mug cakes, reading books, and posting cute images of goats on her instagram story. 
"Goats are amazing, the best thing in the world," Usman said. "They may smell, but they are adorable. I would keep one if I could."
10 Quick Q's
What was your most memorable moment of high school?
Definitely hanging out with friends before, during, and after school. They are definitely the reason I have a lot of fun and enjoy being at school.
What's your favorite food?
 Palick (chopped spinach) or golgappa (also known as pani puri)
Bollywood or Hollywood?
Hollywood
What is your favorite song?
Missing Piece by Vance Joy
What was your most embarrassing moment in high school?
Extremely freaking out after finishing a book on the last day of freshman year (I didn't expect the plot twist!)
What was your favorite class taken in high school?
Pre-AP English 9 and Pre-AP English 10
Do you have any secret talents?
I don't think so, but I can draw a really good origami boat from memory if that counts?
What is your favorite quote?
"What would life be if we had no courage to attempt anything?" – Vincent Van Gogh
What is your favorite season?
Autumn
What do you like doing in your free time?
Sleeping or reading