People of Patriot: Strawberries, S.T.E.M., and Success
Taha Syed hopes to integrate his passion for science and kids in the future.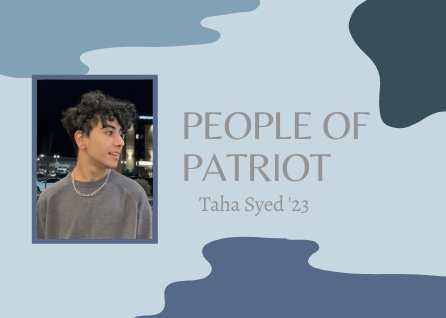 On a dull and chilly evening after a particularly draining day of virtual classes, Taha Syed (11) sits at his kitchen counter with a tub of strawberries. He prepares his materials and procedure for DNA extraction of the fruit. As he works, he writes down data on a sheet of paper which he will later include in his Governor's School application. 
"
The study of genes and DNA is fascinating. I think I started liking it when I made an experiment to go to Governor's school in which I had to take DNA out of a strawberry.
— Taha Syed (11)
Now, Syed is enrolled in college courses under the Governor's school program that Patriot offers.
"Governor's school is this program that sophomores are able to apply to at the end of their sophomore year," Syed said. "It's STEM-oriented so you apply and pick a science of your choice to take."
In the Governor's School, each applicant chooses a science and three other classes that focus on STEM. Syed chose biology as his science and engineering as his elective, as he is considering pursuing a future career in biomedical engineering.
"It's kind of cool studying how the inside of our body works. I like it because I think the study of genes and DNA is fascinating," said Syed. "I think I started liking it when I made an experiment to go to Governor's school in which I had to take DNA out of a strawberry."
Syed also has an interest in a career that involves helping children.
"I think just teaching kids is fun to me. I wanted to do pediatrics for a while, but I don't know for sure. I definitely like helping kids, I think it's pretty fun," said Syed. "I think that's something I've always been pretty good at, and I think kids tend to like me too."
Students who are enrolled in the Governor's school meet at a separate college campus to take their classes, meaning they arrive at Patriot right before fourth lunch to eat and then head to their last class of the day. This causes them to have less interaction with their fellow Pioneers and they spend significantly less time within the school compared to regular students.
While Syed doesn't see his classmates often, he still doesn't feel disconnected from his peers.
"I still do clubs and am at a lot of the events after school, so I'm sort of disconnected, but not really," said Syed, who's currently a member of SCA, NHS, and International Club.
The college classes offered through the Governor's school program are vigorous and challenging. 
This can be time-consuming for a teenager's life, on top of extracurriculars. In his free time, Syed likes to play soccer, games with his friends, and watch anime. One of his favorite games is Valorant which he spent most of the quarantine playing with his friends. 
"I enjoy it just because it's kind of stress-free, I mean it is pretty stressful, but it's a lot of fun," Syed said. "I just play them with friends and we have a pretty good time with it."
Another one of Syed's favorite past-times is watching anime. His favorites include One Piece, Naruto, and Attack on Titan.
"My favorite is One Piece just because the length adds on to it," said Syed. 
Syed also watched a lot of anime over quarantine along with biking and gaming. He mentioned that he didn't particularly enjoy virtual learning, however, and it took a toll on his mental health.
"I miss it since it was easy, but other than that, no, because I think I missed out on a lot of opportunities like talking to people and clubs and interacting," Syed said. "I'm in a better mental state now."
10 Quick Q's
If you were a Disney princess, which would you be?
Elsa because I like her ice powers, they'd be cool to use.
Are you an extrovert or an introvert?
Extrovert but it depends on the scenario, I can be shy sometimes.
What's your favorite restaurant?
Probably this Pakistani restaurant I visit with my family, I don't recall the name.
Favorite Bollywood movie?
Three Idiots because I've seen it a lot with my cousins in Pakistan.
Who's your favorite MARVEL superhero?
Spider-Man, definitely.
What's your favorite character trait about yourself?
I like that I can get along with a variety of people very easily.
Would you rather wear a stylish shirt or stylish pants?
Probably shirt.
If you could live anywhere in the world when you're older, where would you leave?
New York City because I think it's very pretty and I like the ambiance of the city.
Favorite South Asian dish?
Probably biryani.