Now You Know: Weeks of 10.31.21 to 11.13.21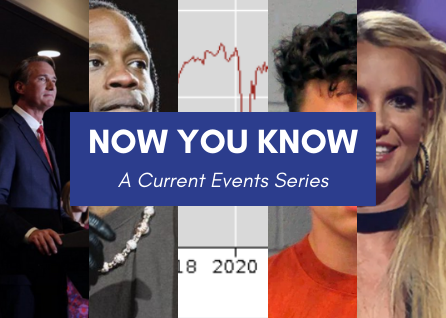 1) Virginia

 is Red 

for

 The First Time 

in

 Over a Deca

de

 
After 3.3 million people reported to the polls, Republican businessman Glenn Youngkin was elected Virginia's 74th governor on Nov. 3. He is the first Republican governor elected in the state since 2009. 
Youngkin focused heavily on education, attracting the attention of many parents in Northern Virginia's suburbs. He promised these parents a larger voice in dictating curriculum, even starting the "Parents Matter" movement.     
What does this mean for students?  
Critical Race Theory will be banned from Virginia's schools, even though it isn't actually apart of Virginia's standards today. 
Standards in education will also be raised with the reversal of previous governor Terry McAuliffe's 2015 bill that deemphasized standardized test results, making it easier for Virginia schools to earn state accreditation.  
Youngkin believes because of that bill, Virginia's standards have been substantially lowered, something unacceptable. So, he pledged "on day one, I will sign an executive order returning Virginia's schools to pre-McAuliffe standards." He says this means that Virginia will no longer "race to the bottom when it comes to expectations," and standards in education will be higher.  
 2) 9 People Dead

, and Dozens Injured

 After Travis Scott's Astroworld Music Festival

 
On Nov. 5, 50,000 people were ready to see Travis Scott preform in Houston. Among them a high school freshman, who wanted to get to the concert on early to get a good view. As of Nov. 13, he is the youngest among nine people to die as a consequence of that day. 
While investigators are still working to determine exactly what happened, we know the large, unruly crowd surged towards the stage at one point of Scott's performance, trampling many people along the way. People in the front were compressed with no escape. This is believed to be what caused most injuries and deaths. 
Here's what else we know so far: 
Hours before Scott took the stage, a rowdy crowd pushed through and destroyed the VIP entrance. Security 

 

Videos show concertgoers climbing onto platforms where cameramen were operating, begging them to stop the show, and yelling that people are dying. The show was not stopped at this point.

 

Other videos show concertgoers were blocking and dancing on emergency and security vehicle, preventing medical personnel from helping.

 

The Hollywood Reporter 

reported

 that police are looking into drug-spiking incidents in the area of the concert where chaos first spurred. 

 
Travis Scott responded to the tragic night in a twitter post saying he is devastated and is supporting Houston PD's investigation.  
3) The Great Resignation – 4.4 million Workers Quit Their Jobs in September  
In the Spring of 2021, millions of US workers voluntarily left their jobs because of unsatisfactory treatment from employers. Economists named it "The Great Resignation." In Sept. of 2021, we saw a record 4.4 million people leave their jobs. 
After the pandemic, American workers seek higher pay and more flexibility in their careers, but employers still aren't meeting those requests. As the divide between what workers want and what employers are willing to provide grows larger, supply and demand in the labor market seem to get out of equilibrium, and labor shortages are increasing.  
But pay and flexibility aren't the only reasons why millions are leaving their jobs. 
Workers are burnt out, some have child and elder care responsibilities, some don't feel safe returning to a physical workplace, and others refuse to leave behind the many benefits of remote work, including no commute. Saving for many households have gone up since July of 2021, so people feel less rushed to return to or stay at work. The pandemic also gave time for reflection. Values and perspectives have changed; some Americans are deciding to switch career paths.  
4)

Kyle Rittenhouse Case

 
An officer in Kenosha, Wisconsin shot Jacob Blake, a black man, and left him partly paralyzed on Aug. 23, 2020. The shooting, caught on video, quickly spread across media. It enraged many, and demonstrations began taking place in Kenosha over the next few days. 
On the third night of demonstrations, Kyle Rittenhouse, a white man who was then 17, shot three people, two of them fatally. 
He was arrested in his home and charged with six criminal counts in relation to the shooting the day after. Rittenhouse, who is now 18, pleaded not guilty.  
During the trial that began Nov. 1, Rittenhouse told the jury his acts were in self-defense, saying one of the victims he fatally shot had cornered him and that he "stopped the threat from attacking [him]."  Rittenhouse sobbed on the witness stand while defending his actions. The emotional testimony prompted question about his sincerity and opportunism. 
Rittenhouse is facing charges that will put him in prison for life but has not yet been convicted. Closing statements will be on Monday. 
5)

Judge Ends Britney 

Spears'

 Conservatorship

 
"I'm not happy. I can't sleep. I'm so angry it's insane. And I'm depressed. I cry every day." That's how Britney Spears' described herself under the conservatorship of her father, Jamie Spears.  
A conservatorship, as defined by the California courts, is a situation where the court appoints a trusted organization or person (the conservator), cares for another adult (the conservatee) who cannot care for themselves or manage their own finances. 
The #FreeBritney movement began in 2019 by fans who speculated she was under conservatorship and receiving unwanted medical care. Spears did not publicly acknowledge this until June 2021, when she pleaded with judge Penny to end the arrangement that was indeed a conservatorship. 
On Friday, Judge Brenda Penny ruled that the 13-year-long conservatorship will be terminated immediately. There were no objections in court that day. 
Spears took to twitter to say she loves her fans. She used the hashtag #FreedBritney for the first time.