Chauvin Challenges Charges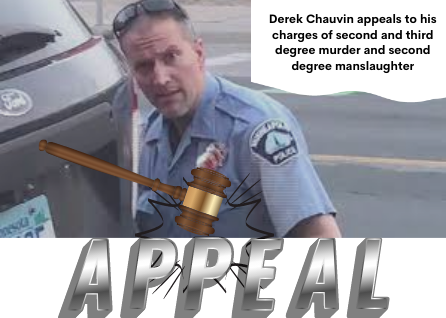 An officer kneels on Floyd's neck for about nine minutes, as he is struggling to breathe. During the last two minutes, Floyd lay motionless with no pulse. The officer in the presence of Floyd's last breathing moments was Derek Chauvin. 
An employee from a deli called 911 to report that Floyd had used a counterfeit $20 bill. Bystanders took videos that showed Floyd was calm until they tried to put him in the back of the cruiser. Apparently, Floyd said he was claustrophobic. That's when Floyd fell to the ground and Chauvin pressed his knee into Floyd's neck. After Floyd passed out, many bystanders urged Chauvin to stop, but he continued to keep his knee on George Floyd's neck. 
Chauvin joined the Minneapolis Police Department in 2001. He had racked up 18 complaints throughout his years there. Two of which were closed with action taken and the sixteen others were closed without any action taken. 
According to Daily Mail, "Derek Chauvin could have his conviction for murdering George Floyd reduced to manslaughter." The criminal defense attorney, Andrew Wilson, told Vice News that, "Chauvin will likely have his decision reversed because it is legally incompatible to say that someone is guilty of intentionally doing something and at the same time they're guilty of unintentionally doing something" 
Along with the media, Patriot High School officer, Robert Murphy, has an opinion on this case, "There is no justification to hold a person down on the ground by placing a knee on the person's neck.  No reasonable person, police officer, or average citizen, would think this would be a good idea to immobilize a person." 
Officer Murphy has had 20 years of experience as a homicide detective. Based on protocol, he explains that "The rule is; once a person is handcuffed there are varied options to use force.  Having a person sit on the ground where they can breathe as normally as possible is always preferable." He also explains that they are told to, "stay away from the neck and head when restraining a person."
To become a police officer, the training consists of 12-18 weeks in a police academy followed by another 12-18 weeks with a field training officer. Officer Murphy states that "Based on all the training I received throughout my thirty-one-year police career, Chauvin's actions did not fit into any police training I've ever seen." 
Along with Chauvin, three other officers, who were at the scene, were indicted. They are being charged with aiding and abetting in the death of George Floyd. Officer Murphy says that "When examining the other officer's behavior that was on the scene, it also becomes apparent that they should have acted to stop Chauvin." 
When asked what he would do as an officer in this situation, Officer Murphy confidently states, "I would take immediate action to the point of removing Chauvin from Floyd, calling for an ambulance, and calling for a supervisor to respond to the scene."
After appealing his charges, many weren't pleased with the audacity. Chauvin's case is slated to begin in January. 
UPDATE: As of April 29, 2022, Derek Chauvin has officially appealed his charges. He is arguing that the "jurors were intimidated by the protests that followed and prejudiced by heavy pretrial publicity"