Now You Know: Weeks of 12.5.21 to 12.18.21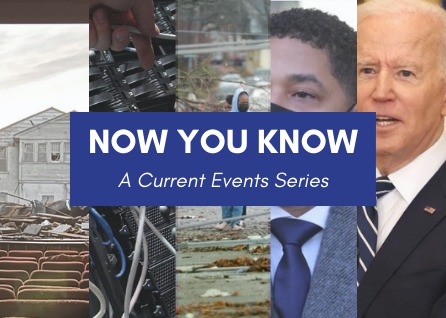 1) Tornadoe

s and Kentucky

 
Workers at a candle factory in Kentucky were struck by deadly tornadoes. More than 100 people were working at a factory in Mayfield, Kentucky when a tornado swept through, killing eighty-eight people.
US Rep. James Comer, who represents the area, said workers had been going "24/7" to meet the high demand of Christmas candles. Comer joined President Biden on a tour of devastated areas in Kentucky. Biden pledged the federal government would cover 100% of the costs of emergency work.
2) Cybersecurity

 Threats

 
Hackers associated with the governments of China, Iran, North Korea and Turkey are exploiting a critical flaw in software used by big tech firms. Apple's cloud computing service, security firm Cloudflare, and Minecraft all run Log4j. 
Foreign hacking groups appear to have experimented with vulnerability, which is in Java-based software known as "Log4j" that organizations around the world use to log information in their applications. 
A senior US cybersecurity official said there's no evidence that federal networks had been breached using the vulnerability. However, the Log4j flaw could affect most of the internet. 
3) Windstorms across the Midwest Knock Millions off the Power Grid  
Imagine extremely powerful winds of 70mph, going up to 100mph. Then, imagine cars flipping over, and rooftops flying off houses. Then, wildfires hurling at you at 50mph and then…tornadoes. 
This is what happened across states from New Mexico to Michigan, and it's called a "derecho." 
It's a collection of fast– moving thunderstorms with destructive winds. To be considered a derecho, the winds must travel at least 58 miles per hour. They are fairly rare, and practically unheard of in December.  
This specific one left thousands without power, destroyed houses and buildings, leaving five people dead across Iowa, Kansas, and Minnesota. 
4) The Actor Who Staged His Own Hate Crime

 
39-year-old Empire actor Jussie Smollett claimed he was the victim of a homophobic and racist assault in Chicago in 2019. 
It was Jan 29, 2019 when Smollett, who is black and gay, told the police he was attacked outside of Subway in downtown Chicago around 2am. He claims the assailants directed homophobic and racists slurs at him, put a noose around his neck, mentioned "MAGA country," and threw a "chemical substance" on him. Police begain their investigation here. 
A month later, several media outlets report that two men previously caught on surveillance near the crime scene, and who were not charged, claimed they were paid to be a part of a hoax. Lawyers for Smollett deny this and say one of the assailants was his trainer. Chicago PD confirms that this changed the course of their investigation.  
In the following months, he was accused of both filing a false police report and disorderly conduct by the Cook County State's Attorney Office. He was later indicted because of this. At this point, the evidence pointed to Smollett staging his own attack. 
Now, after a three-year-long legal battle, Smollett was found guilty of five of six counts of disorderly conduct for lying to the police on Thursday, Dec 9th 2021. He has not been sentenced yet but is expected to appeal. 
5) Biden To Restart Student Debt Payment  
There are 4.29 million student loan borrowers, and $1.59 trillion in total outstanding federal loan debt in the US.  
For nearly the last two years, most interest rates and collection calls for student debt has stopped, providing much needed relief as the Coronavirus pandemic caused financial issues for many people.  
On Tuesday, White House press secretary Jen Psaki confirmed that federal student loan forbearance will end on Jan. 31, 2022, and borrowers will be expected to restart payment the following day. This is despite disagreement from many democrats in Congress.  
As we continue to move into the new year, many plans put into place to provide relief from the Coronavirus Pandemic are expiring.  Pew Research found that among those who have said their financial situation had gotten worse during the pandemic, 44% believe itn will take three or more years to get back to where they were pre-pandemic.  
Despite that, the administration is doubling down, explaining that a "smooth transition back into repayment is a high priority for the administration."  
As for the future, with the Omicron variant and an expected winter surge of Coronavirus case, the U.S.'s economic recovery may slow.  
Read the full list of sources here!