People of Patriot: Communication and Persuasion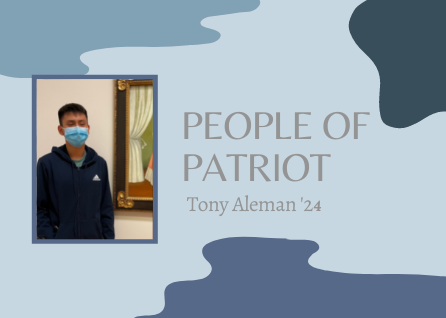 School has just started and lunch is nothing but nerve wracking. The cafeteria is drowned by the loud chatter of students. Twiddling his thumbs, Junior Tony Aleman ('23) scans the room for a familiar face,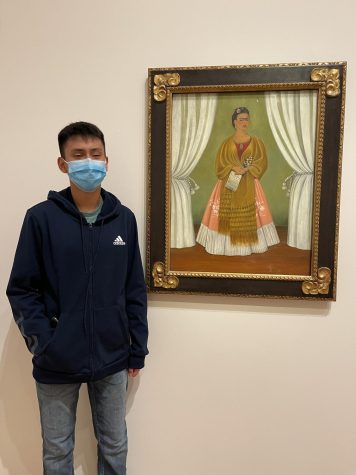 Can't stand him,
I don't talk to them,
Scarily loud,
And finally, 
Oh, 
Yamini. 
Aleman has known Yamini Babu ('24) for about a day, but that was more than enough compared to the vast amount of unfamiliar faces in the cafeteria. Communicating with his frantic eyes and shaky gestures, Aleman asks Babu to come over. 
Luckily for Aleman and Babu, this awkward first lunch would jumpstart an unlikely friendship, and also the Patriot High School Debate team. 
When Aleman and Babu first became friends they realized that they both were interested in joining the debate team. Later on, they found out there was no longer a debate team at Patriot becaus the previous sponsors had left to teach at Gainesville High School. Nevertheless, Aleman had his mind set on starting a new debate team.
"We thought someone else would beat us to it first," Aleman said. We went door to door asking teachers to sponsor the debate team. It took weeks."
For Aleman and Yamini, the knocking of doors was something they had to get used to. The school wasn't lacking teachers or doors to knock on, but the two of them still couldn't manage to find any luck with any of them. They got used to hearing the word, "no." Despite countless rejections, nothing would stop them from trying.
Close friend and debate partner Yamini ('24) commented on this experience.
"We supported each other when we started to lose hope [in creating the new debate team]," Yamini adds. 
Tony and Yamini developed a wonderful support system in their experience of having to persevere through the disappointments together. Thankfully, the momentous day arrived, and after an obviously exhausted Tony asked Ms. Buford to sponsor their debate team, they received their very first "yes." 
The Debate Team has started a world of great new improvements and accomplishments for Aleman. Debate has given Tony many new experiences and skills, but he's also had some difficulties with public speaking. 
"I used to be really good at public speaking, but then starting high school mixed with that anxiety and being self-conscious made it harder," Aleman said. "Due to online school, public speaking became even more difficult. Being back at school has made it easier to readjust, and being in debate has made me practice public speaking more. It still makes me nervous, but I've gotten better."
Tony's interest in debate roots in his love for research. Tony loves how organized he can be when it comes to research. This ties to debate because he loves seeing peoples perspectives in debate as well. Tony also loves to talk about the things he's researched, and have discussions about them.
"I love getting into a rabbit hole," Aleman said. "I love that passion I get in my voice."
Something Tony loves to debate about is education and policy, and how to make the education system better and more accessible worldwide.
Aleman hopes to take his debate skills and use them to sway others into his views on education reform and making education more accessible. 
"I feel like there are a lot of barriers for opportunities for education," he stated. "I love to debate about education and policy and that sort of thing, and how we can make the education system better and more accessible worldwide," Aleman said. 
Tony's love for researching different topics also ties into his love of writing, specifically poetry. 
"Poetry is a medium between connecting my thoughts and ideas and feelings with the poem's thoughts and messages," Aleman said.
While Tony has a growing fascination with humanities, he also finds a large part of his passions in STEM and writing code. 
Along with his other passions, Aleman hopes to defeat cultural barriers and stereotypes surrounding his involvement in debate.
"Being Hispanic, I'm expected to fit into certain stereotypes even from people of my own ethnicity," Aleman said. "People don't expect me to do things like read poetry, but I want to do what I want in life regardless." 
10 Quick Q's with Tony:
What's your name and why is it your name?
Antonio, but people call me Tony. I think my family wanted a more Hispanic name. 
Is there a talent you would like to acquire?
Being an expert at coding.
What's something you are obsessed with?
Art in general (looking at art), except sculptures. Reading poetry. 
What's your favorite way to waste time? 
Video games
What's the weirdest dream you've ever had?
I was dreaming about Valence Electrons and trying to connect them. 
If you could be any cartoon character or T.V. character, who would you be?
I would be Michael from The Office, (except not racist or sexist.)
What is your favorite app?
Poesie, it's a poetry app and you get to see people's comments on it and people reading their poetry.
What's your favorite kind of cereal?
Captain Crunch (Strongly against the berry type)
What's your favorite song at the moment?
Easy on Me by Adele
What is your biggest pet peeve?
When people don't put their masks over their nose, or when people don't email or text back when I need them.