Now You Know: Weeks of 01.30.22 to 02.12.22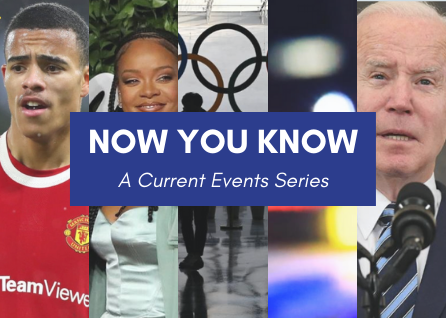 1) Manchester United Bars Mason Greenwood
Mason Greenwood has been a forward for Manchester United since he was 17 years old. This all ended when he was accused of assault by a woman on Instagram on Jan. 30. Following this accusation, Mason was dropped from both the club and country teams. 
These actions took place directly after the victim came forward on Instagram. His numerous brand deals and Fifa dropped him as well. The allegations included audio, video , and photo evidence against him.
Great Manchester Police policy does not allow for the name of an accused person to be released, but they did say that a man in his 20s has since been arrested on suspicion of rape and assault. 
Many Manchester United and soccer fans worldwide were heartbroken by this and the other cases of players recently completing heinous acts.
2) Rihanna and A$AP Rocky are expecting
After weeks of speculation from fans, Rihanna and A$AP Rocky announced that they are having their first child together. Photos of them in Harlem, A$AP Rocky's hometown, were posted by Rihanna on her Instagram page, which took the internet by storm. 
All in all, the public appears to be happy for the couple and are excited to see the baby.
3) Beijing 2022
The Winter Olympics are back in session. The opening ceremony was held on Feb. 4th in Beijing, China, this year's host for the Olympics. 
Since the announcement of the location for the games, there has been much controversy about the host country. China's persecution of the Uyghur population has been the root of this with numerous protests occurring worldwide to stop Beijing 2022 from becoming Berlin 1936 as the Olympics were held in Berlin during the Holocaust at that time. 
Many athletes have shown support for the Uyghurs such as the Turkey ski jump athlete Fatih Arda Ipcioglu putting the Uyghur support symbol on their gear. Despite this, the Olympics have been held as usual and the games in the winter session are listed here.  
Because of Covid, the normal events that have been taking place have been much smaller than in previous years. The most updated scores as of Feb. 11 is Germany leading with seven  gold and four silver medals. You can get updated scores here. 
4) Virginia Tech Shooting
Just before midnight on Feb. 4, Blacksburg Police responded to calls of shots fired in downtown Blacksburg, specifically near Melody Hookah Lounge on Main Street. 
Numerous shots were fired injuring four and killing one. The deceased's name was Isiah Robinson, 18, of Roanoke, Virginia. The four injured students underwent hospital procedures and are currently stable and recovering. 
The suspect arrested is Jamel Flint, 24, also from Roanoke.  Flint is currently in custody and it is still unclear what sparked the gunfire. First-hand accounts from students who attend Virginia Tech say there were swarms of police immediately and many people running for safety. 
This incident occurred within a mile of a memorial to the 32 who died in  the April 2007 massacre at the college.
5) Biden Splitting Afghan Frozen Funds
On Feb. 11, President Biden signed an executive order and announced plans to split the $7 Billion in frozen assets from Afghanistan's central bank to Afghans and victims of 9/11. This means that $3.5 billion will go to Afghans and the remaining $3.5 billion will go to the victims of 9/11. 
Senior Administration Councils say this will lead to repaying the Afghans specifically in Afghanistan. Despite this, when this order was revealed, there was much controversy on who this is actually benefiting as the funding is designated for Afghans. People are arguing that since Afghans had no part in 9/11, their funds shouldn't be going towards those affected. 
Some are also saying that the humanitarian struggles such as famine and high levels of homelessness the Afghans in Afghanistan face will get worse if a bulk, if not all, of the 7 billion doesn't go to them. 
Read all the sources used in this article!