Coach K's Farewell
After a tough loss against UNC Tarheels, 81-77, in the Final Four on Saturday night, Coach Krzyzewski was not ready to discuss the end if his coaching career. At 75 years old, he has been coaching for 46 years; 41 of those years with the Duke Blue Devils. Here are some highlights from the Final Four Duke vs. UNC game. 
During his years with Duke, he coached them to 5 national titles, 13 Final Fours, 15 ACC tournament championships, and 13 ACC regular season titles. 
The outcome of this March Madness tournament put him at a 1,129-309, wins to losses, record. 
Despite their loss against arch rivals, the UNC Tarheels, they played a tough game. The Devils kept the crowd on their toes with an answer to almost every punch the Tarheels threw. They were heavily reliant on three freshman (Paolo Banchero, Trevor Keels, and AJ Griffin)  while going up against an experienced team with great chemistry.
UNC's Caleb Love led the team with 28 points shooting 11-20, including multiple clutch buckets. The Tarheels were barely trailing at halftime, 37-34. 
The 2nd half consisted of back and forth scoring, winding the clock down to 3:32 and a tie game. There had been 3 lead changes in a span of a minute, with Duke taking the lead by 1 with 1:18 remaining. 
Unfortunately, their tough defense and outstanding offense wasn't enough to stop the Tarheels. The Tarheels won 81-77. 
Photo from greenvillleonline.com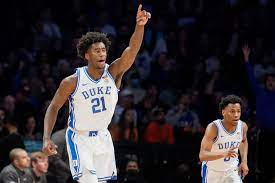 AJ Griffin
Photo from dukebasketballreport.com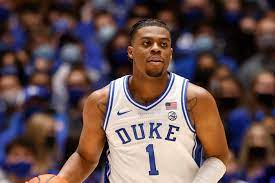 Trevor Keels
Photo from hoopswire.com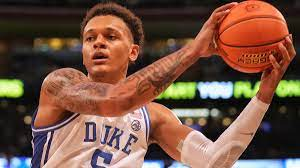 Paul Banchero
Not only has he had a huge impact on college basketball, he also has made a remarkable impact on Olympic basketball. He led Team USA to 10 gold medals (1979, 1982, 1983, 1984, 2007, 2008, 2010, 2012, 2014, 2016),  2 silver medals (1987, 1990) and 2 bronze medals (2004, 2006). 
Coach K has made it very clear that he wants to still be apart of the Duke community just not as the head coach. He explained that he wants to build an African-American Cultural Center on campus to honor those who have impacted Duke and the city of Durnham. 
Coach K will not only leave a positive impact on the basketball players, but also on the entire city of Durnham.