Andrew Tate's Misogynistic Tactics
Inside on Tate's money-making tactics, remarks, and opinions on him by students at Patriot.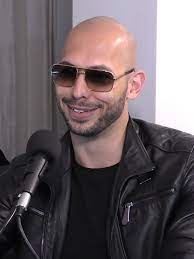 Imagine your son tells you that his newest idol is someone who stated online that he believes, "women are men's property." Besides being known as a professional kickboxer and a British-American personality, Andrew Tate's popularity grew in the media due to exploited videos of his misogynistic remarks and his university, (Hustlers University), about his money-making tactics. 
The controversies in his career began when videos of him assaulting women leaked from the television show he was cast on, "Big Brother (UK)", in 2016. Evidential information from the Observer revealed that fans of Tate were advised to spread videos of his abuse and remarks on the media to bring more engagement towards Tate, putting his career into peak. He gained about 4.6 million followers on Instagram, according to the New York Times. Conferring to videos uploaded online, he stated his belief on how, "if you put yourself in a position to be raped, you must bear some responsibility," for the attack.
https://www.youtube.com/watch?v=FT2Smc6KYoE 
 After many videos being leaked of his abusive language and remarks backing up on how his mindset consists of male dominance, he was kicked off the TV show, resorting to his tactical money-making university, Hustlers University. His university was a network containing lessons to business and finance, where Tate stated that he teaches "the secrets to modern wealth creation." 
His content still appears all over well-known apps like Facebook, Instagram, and Tiktok, and is spread and promoted by his followers and himself. His audience grew and according to The Guardian, consists of mainly young men. 
Tate's ban on Twitter followed him being banned on Facebook, Instagram, and Tiktok. His fans continue to spread his content, but his personal accounts cannot upload to the media. He schemed by manipulating his private university in order to earn money from members who joined. His university consisted of about 127,000 members and now consists over 168,000 members, being mostly men and young boys from the U.K. and the U.S. 
After his ban from most media apps, his university was shut down on Aug. 20, 2022. The new university, "Hustlers University 3.0", is an available option to now enroll in and pay for. His fans continue to spread his content throughout the internet. According to The Sun, Tate uploads podcast episodes for his podcast named "Tate Speech" on the website Rumble. He believes his reasons for being banned on the media were incorrectly interpreted.
 According to Morocco World News, Tate converted to Islam in Oct. 2022. Tate has said how he has always admired the beliefs of Islam. His friend, Khan, who uploaded a video of him shared how Tate's "love for Islam is real" and that he will be accepted of his mistakes. 
Speaking to why Tate's fandom is rather young men, Sid Butna ('25), a sophomore at Patriot involved in the PTHS news and media stated how, "the human mind often becomes attracted to a role model which pins a certain group of people as a cause for said groups issues", regarding to how he said Tate is a role model to, "mostly teenage boys." Being a teenage guy himself, Butna states that he looks, "at many of his views as quite disrespectful to women and rather misogynistic" and "too extreme of a view for me." 
Although Tate's remarks are still relevant, there are many mixed opinions on them and coming from various views. On an interview on "Barstool Sports" YouTube channel, he states how he should "have responsibility" over his women. He has confidence in what he speaks, but what are women's thoughts on this? 
Hooriya Tanoli ('23), leader of the "For the Girls" club at Patriot hat focuses on women empowerment, speaks on why she thinks people tend to follow Tate, saying how, "there's like a certain minority like a group of guys that just agree with him and that have helped him blow up with their stupid opinions, for lack of better words." She states how Tate has a, "conservative mindset" and can grasp much attention by promoting that. She does believe he should be able to run his business to help others with investments but says how, "his whole mentality behind it like the way he has certain connections behind it, that's messed up." 
As evidence provides, the media does not tolerate Tate's misogynistic commentary, but he continues to use that to his advantage regarding money. His university is relevant, providing him more stability. Tate's conversion to Islam could guide him on a better path, but his past remarks will still be available to the internet.
Leave a Comment
Your donation will support the student journalists of Patriot High School. Your contribution will allow us to purchase equipment and cover our annual website hosting costs.