People of Patriot: Finding direction through filmmaking
As a filmmaker, Sushi Debnath ('22) describes herself as a 'jack of all trades'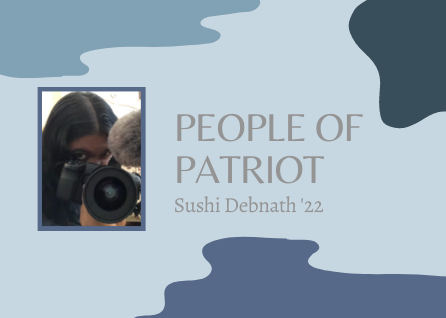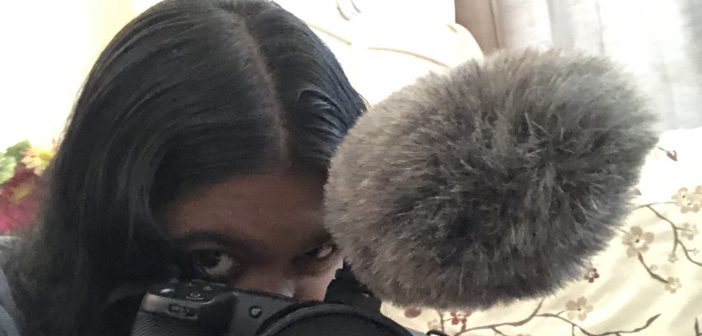 Sushi Debnath has always been drawn to the art of filmmaking. As a child she possessed a wild imagination, pretending her stuffed animals were characters of a murder-mystery film. Throughout high school, this passion quickly shaped Debnath's life.
"In elementary school I started writing ideas for movies," Debnath said. "Of course they weren't full blown ideas, but once I got into middle school, I would try to write scripts on Google docs."
A Passion Revived During Quarantine
Recently, Debnath revived her passion for cinematography during quarantine.
"I was writing a short story during lockdown and one of my friends said that I should film it," Debnath said.
Debnath and her film crew spent fifteen hours a week designing sets, shooting scenes, and editing. Her work, "Panic," which centers around themes of mental health and grief, is planned to premiere at her high school. She also intends to send it out to a few film festivals. With her film, Debnath hopes to achieve one goal.
"I want people to leave the room and remember something about my film," Debnath said.
Inspired by Women in Filmmaking
When looking for inspiration, Debnath turns to women who are making it big in the filming industry.
"I look up to female directors because there's not many out there. I was watching Cloe Zhao at the Oscars this year and when she won for Nomadland, I was really excited for her," Debnath said. "In her speech, she was talking about how a director is a master of none, they're a jack of all trades. They have to have a command on many different skills. I resonate with that because I feel like I do a lot of different things. I've dabbled into everything."
More about Debnath
Besides film, she participates in many other activities including law club, FBLA, and marching band. She even founded her own club called 'Be Inspired', where people volunteer and interact with one other. This year, Debnath will also be serving as the school board student senate representative for Patriot High School.
Throughout high school, she's won many awards, including the Mother Language contest where she had to draw a poster. Debnath believes that her artistic skills give her an edge in filmmaking.
"Drawing gives me a creative aspect in film," Debnath said. "Same with music. I'm the first female drum captain [since Patriot's opening year]and I feel like music has made me in tune with the creative aspect of film."
Debnath isn't sure if she wants to pursue a career in film. She's also considering majors in political science or economics. Debnath's interest in political science stems from her involvement in law club, advocacy institutes, and internships for political campaigns.
"I'm not sure if I want to major in film. Even though I want to go into the industry, it's not required to have a degree," Debnath said. "I was thinking of double majoring in economics and film."
10 Quick Q's With Sushi
Most memorable moment in high school?
In the band bus, everybody sang really loud cause we just won a football game. We would all sing 'We are the Champions' by Queen on the way back home. It was really fun.
Most embarrassing moment in high school?
I got these shoes for my birthday and they were a little too big. When I was walking up the staircase I tripped twice.
Favorite class ever taken in high school?
AP World History
What hobbies did you pick up during quarantine?
I learned how to make bagels.
Favorite season?
Fall, it's pretty seeing the leaves change color.
What's your favorite TV show?
Avatar: The Last Airbender.
What's your favorite song(s)?
Management by Clairo
What's your favorite condiment?
Chick-fil-A sauce. My sister got me a whole bottle from this store in New Jersey
What's your favorite meal of the day?
Dinner when I'm going out with my sister.
If you could give advice to a rising freshman in high school, what would it be?
Don't start worrying about college until you have to. Stay on top of things and don't slack. Just live life.