The Culinary Pioneers Adapt to a Virtual School Year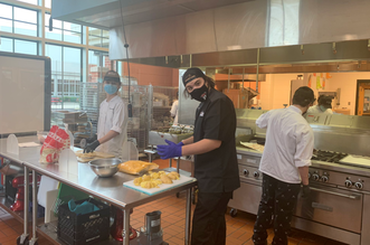 ​It's no surprise that many classes offered at Patriot have had to change the way they are run and adapt to virtual learning. Culinary—a program offered at Patriot High School that prepares students to pursue careers and future education in the culinary field—is one of those classes.
Usually, Culinary is a class in which all of the standards and skills are based on hands-on-learning activities. However, due to virtual learning, class instruction has had to change accordingly.
Chef Stevenson, who teaches Culinary Arts 1 and 2, says that even though this year, and the end of last year, are not the most ideal learning situation, the Culinary Pioneers are still doing a great job practicing and learning.
"I do a weekly demo lab live from the kitchen at Patriot, and there are students who cook right along with me, or after they watch me cook," Stevenson said. "We use one class day per week to cover and discuss all the information needed to successfully complete the module for the week, then the other class day is used for review, summative items and cooking demos."
Junior Amanda Hebert who is currently taking Culinary 1, says that Culinary is a little different in how it's instructed from last year.
"Culinary is different this year because we are virtual and are not in the kitchen. We have to use our own kitchens and ingredients at home instead of the one at school. Usually in person we'd all cook together but now we watch Chef do a live demo once a week which we can try to follow live or just watch and make later," Hebert said.
Overall, Hebert says that Culinary has been smooth sailing except for the fact that they aren't able to be in the kitchen with Chef Stevenson.
"Some downsides to this is if I need help with a recipe or help with how to cook/bake/prepare or cut something; I can't really have the same hands-on-help as one would have in a kitchen with a teacher and classmates," Hebert said.
Nevertheless, despite the challenges of virtual learning, the Culinary Pioneers have still managed to see the bright side of  their situation.
"In our culinary program we choose daily to make each class worthwhile and meaningful by in-depth conversation and exploration of culinary topics that we usually do not have time to explore during a non-COVID school year. It's challenging, for sure, but some good things have come out of virtual learning," Stevenson said.
On December 7,  some high school students were able to attend in-person for career and technical education (CTE) classes. The Culinary Pioneers were included in these classes. Stevenson says that the feeling of getting back to the kitchen in-person can be described by one word: "triumphant."
"In one word, triumphant. With the abrupt end to their junior year, my Culinary 2's having the opportunity to work in their lab and hone their skills again is triumphant. It feels a lot like having your family back together after a long, uncertain time apart," said Stevenson.
Stevenson added that Culinary is incorporating safety precautions in their classroom instruction. They all follow the county and CDC guidelines that are applicable to a commercial kitchen environment. The culinary pioneers are big on wearing masks, gloves being worn between frequent handwashing, and cooking in smaller groups.
"We have procedures in place to limit gathering in any area of the classroom or kitchen, such as our walk in fridge, walk in freezer, and pantry," Stevenson said. "Our students are taking it seriously and functioning well, and I see us keeping a bunch of these protocols in place post pandemic."
Unfortunately, Culinary can't go to their 2021 April competition trip to Disney as it has been cancelled this year. However, they are making plans for the April 2022 trip and have an optional Washington D.C. trip for this year in store.
"I am already in full swing making plans for April of 2022's Disney competition trip. I know that the students and my incredible chaperone group are very excited to get back to business and compete again," Stevenson said. "It will be very cathartic to step into the kitchen arena with students in 2022."
In the Washington D.C. trip, the culinary pioneers will have the opportunity to see several local and international chefs this May in D.C. at the Metro DC Cooking Expo. It will be a voluntary experience over a weekend and is beneficial to those wanting to continue into the culinary and hospitality field. 
"In years past we've worked with Duff Goldman, Michael Symon, Giada DiLaurentiis, Emeril Lagasse and Carla Hall. Last year we got to work with Martha Stewart who was so kind to our students. It was a day to remember for sure, and I hope we can give our Culinary 2 seniors that experience this year," Stevenson said.
While Culinary has faced many challenges and will probably continue to do so, they have worked hard to overcome every obstacle in their way. Clearly, not all heroes wear capes, some wear chef hats and aprons.
Leave a Comment
Your donation will support the student journalists of Patriot High School. Your contribution will allow us to purchase equipment and cover our annual website hosting costs.