People of Patriot: Leading through uncertainty
Hosna Mohibi ('22) builds perseverance through robotics.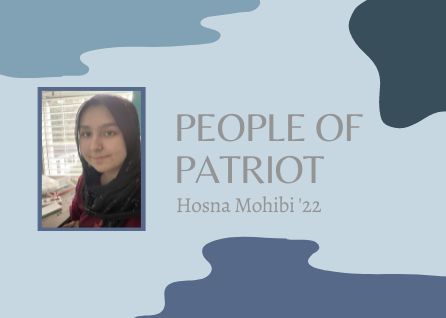 Gazing intently at her computer, Hosna Mohibi (22') designs a model of her ROV, a maneuverable underwater machine. She makes constant adjustments to her designs, saving each version on Autodesk Inventor. Having been a part of Seaperch, an underwater robotics team since ninth grade, Mohibi enjoys robotics as a hobby as well as a way to further her knowledge.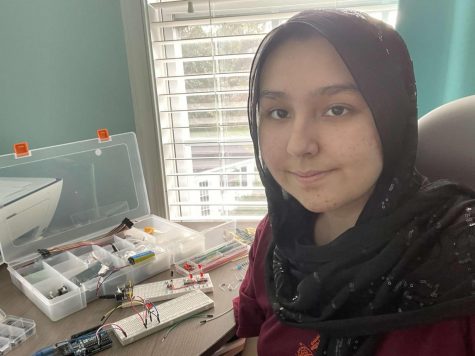 As a member of Patriot Seaperch, Hosna has worked with her team from the start of freshman year, learning from upperclassmen, and in the last two years, she has taken leadership responsibilities, guiding new members of the program. She recalls her proudest moment in her high school robotics career, leading a team during a public health emergency. 
"Robotics is a very hands-on activity. When the pandemic hit, creating a project, planning a design, and coordinating meetings with my teammates became difficult," Mohibi said. "We would normally collaborate face-to-face weeks before our tournament. Now, I had to design the project with my teammates virtually and create it myself at home from scratch."
During these tough times, Mohibi discovered her innate leadership qualities and her ability to bring people together. 
"The pressure was real. The co-captain had to quit because she had too much on her plate. As the other co-captain, all the power shifted to me," Mohibi said. "If I missed a meeting, my team would be disqualified from the tournament. My responsibilities heightened and I spent two weeks doubting if I wanted to continue."
Yet, Mohibi overcame these obstacles, spending 10 hours a week leading up to the tournament. 
"I've learned a lot from the past year and I'm definitely a better leader now. I've learned so much from being under pressure," Mohibi said. "The best of everyone comes when least expected."
Through robotics, Mohibi has been able to build perseverance, a quality that close friend Mariam Usman ('22) admires.
"Other than that she has an open personality that makes it hard for anyone to not be friends with her," close friend Mariam Usman ('22) said. 
Mohibi is attending a Pathway Engineering summer camp in Virginia Tech to further her understanding of engineering and explore more concepts. Despite her heavy involvement in her engineering classes and activities, Mohibi isn't sure if she will pursue engineering as a future career. 
"The STEM field is a very male-dominated field. As a female from an immigrant family, I feel doubts sometimes. I might end up doing something completely different," Mohibi said. "I have many interests, so I'm the type of person who wants a mix of everything. I want my future career to include a multitude of skills"
Mohibi's passions spread wide. She also enjoys participating in law club, Mission STEM, National Honor Society, and photo club. Whether it be taking photos with her trusty canon or creating films with her friends, Mohibi's form of relaxation revolves around spending time by herself or with others. 
10 Quick Q's With Hosna
Most memorable moment in high school? 
When my Project Lead the Way teacher came in the middle of one of my classes to announce that my robotics team qualified for regionals.
Most embarrassing moment in high school?
Someone spilled water in the history hallway and I ended up slipping on the same puddle three times. 
What was the best class you took in high school? 
Probably art class, it was the most chill. 
Are you an early bird or night owl?
Night Owl.
What's your favorite quote? 
Try, so you don't regret later- Hosna Mohibi (myself)
What's your favorite season? 
Fall definitely. 
Do you have a secret talent? 
I can make a sound that resembles a baby crying. 
What's your favorite song(s)? 
Any song by BTS.
What's your favorite food? 
Mantu, it's an Afghani food. They're basically dumplings. 
If you could give advice to a rising freshman in high school, what would it be? 
Join as many clubs as you can, it's important to discover your interests. Just make sure to not spread yourself too thin.